Here's Everything New Disney+ Is Adding In September
Get ready to shell out $29.99 to stream 'Mulan'
by Fatherly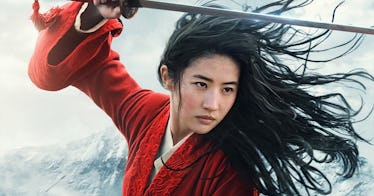 Disney
Arguably the most talked-about thing coming to Disney+ in September is… Mulan. The big-budget Disney flick is slated to premiere on our home screens, but that also means that there will be a hefty price tag: a whopping $29.99. Is that too much for a movie, especially when it will become free for Disney+ subscribers in a matter of several weeks? Maybe, but for those who are really hyped up for the new release, the virtual ticket price could be worth it, especially if you're gearing up for a family movie night.
Other notable titles coming to the platform include Earth to Ned, an original talk show from Jim Henson featuring a chatty blue alien named Ned who interviews celebrities (on earth!), from Kristen Schaal to Joel McHale, in addition to One Day at Disney, a feature documentary released in shorter episodes highlighting the day-to-day lives of Disney employees.
Here is the complete list of Disney+ shows and movies coming to the service in the month of September with Disney+ originals listed in bold.
September 4
Mulan
The Wolverine
Pixar in Real Life
Muppets Now
Never Been Kissed
Earth to Ned
D2: The Mighty Ducks
D3: The Mighty Ducks
One Day at Disney
Strange Magic
Trick or Treat
Weird But True
September 11
One Day at Disney
Christopher Robin
Weird But True
September 18
Bend It Like Beckham
Wicked Tuna
Becoming
Coop & Cami Ask The World
Violetta
Europe From Above
One Day at Disney
Soy Luna
Ever After: A Cinderella Story
Once Upon a Time
Weird But True
Kingdom of the Mummies
Marvel Super Hero Adventures
Notre Dame: Race Against the Inferno
September 25
Fancy Nancy: Fancy it Yourself
X-Ray Earth
Magic of Disney's Animal Kingdom
Gordon Ramsay: Uncharted
Wild Central America
Secret Society of Second-Born Royals
Sydney to the Max
Port Protection: Alaska
One Day at Disney
The Giant Robber Crab
Weird But True
Oceans
Muppet Babies
This article was originally published on