Viral TikTok of Toddler Watching Women Olympic Weightlift Will Make Your Day
"They are so strong. They can lift heavy ... fings."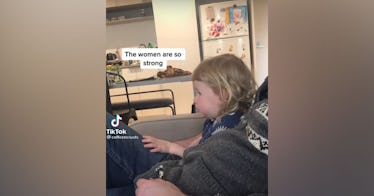 A young fan of the Olympics has caught the attention of millions after having an adorable reaction to watching the weightlifting athletes during an event. Watching the event with her parents, she was in total awe as the athletes did what they do. And mom shared the reaction with TikTok, and we're so glad she did!
"The women are so strong!" the toddler said to her parents as they watched the women's weightlifting events at the 2021 Olympics. "Look at that pole! And strong hands, I wish I had strong hands," she continued.
Her full body was engaged in what the athletes were doing on the screen. She was in total awe that the women "can lift heavy things, cause they are so strong," the impressed toddler said.
She pretended to do some of the moves and shared that when she was strong, "she used to go there" – which, who knows, could have happened in a past life. And the fact that she called the weightlifting "play dropping" added another level to the cuteness.
And then she started cheering. "You can do it!" she shouted as she marched around the living room, "she is the winner! She is the winner!"
According to Refinery29, the clip the little girl was watching was the women's 49kg weightlifting event where 24-year-old Zhihui Hou, representing Team China, took home the gold medal. And the toddler's reaction to the event makes people's hearts smile all over TikTok.
"And a future Olympic champion was born," one person wrote in the comments.
"Please save this and play it back to us when she's in the Olympics," another wrote.
"How amazing that she gets to grow up and watch these strong women and be inspired by them," shared someone else. "Can't wait to see her in the Olympics."
When mom posted the video, it circulated everywhere, including NBC Olympics and ESPN social channels. As of now, there have been 3 million views of the little girl hyping up the weightlifters since it was posted a few days ago. And it reminds us of how exciting it can be to watch all the sports with our kids.