Everything You Need To Know This Week About Being A Parent
All the news that's fit to parent.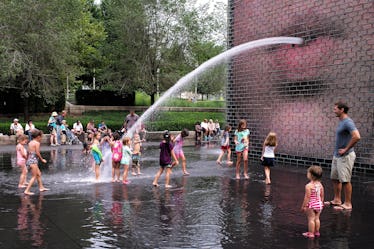 Roman Boed
This past week in parenting you found out what could have compelled Steph Curry to throw his mouth guard, and it was all of Twitter clowning on his dad shoes. Elsewhere, you learned that you should spend any extra time you have on caring for the kid, because science confirms that's the leading cause of getting laid. But if your kid might be kind of a jerk about it, it might be your Amazon Echo's fault. Maybe if your kid exercised more while they were at school, they'd be a little more chill to everyone — even the machines. All this and more, because parenting news travels fast (like your toddler).
Don't Tell Your Wife, But There's A Gender Gap When It Comes To Crime And Punishment, Too
You always knew your spouse was a good person, that's why you married her. What you may not have realized is that the upside for you is that you're punished way less harshly for ethical violations, which is a takeaway you probably don't want to tell your son about. Read more..
12 Killer Dad Jokes At The Expense Of Steph Curry's New Kicks
Steph Curry's new 2 low sneakers are here, and their ready to catch you when you've fallen and can't get up. These ultimate dad kicks are the roast joke that keeps on giving. Read more…
Buying A New Car? Check Out This Review Of Maintenance Costs By Brand And Model
Buying a new car when you have a kid mostly sucks, because you know it will inevitably be taken over by goldfish crumbs. Seeking to make it suck a whole lot less, YourMechanic used data from their consumer repairs to rank the car brands and models that will have the most wear and tear overtime, and that's your thing. Read more…
Want To Improve Your Sex Life With Your Wife? Spend More Time With Your Kid
If you think parenting is cutting into your sex life, you're not exactly wrong but a recent study does make an ironic recommendation for improving intimacy: more parenting. Thanks again, science. Read more…
If You're Not Getting Backyard Beers From A DIY Motorized Cart, You're Doing It Wrong
Although your kid has mastered the art of getting dad another beer, here's another thing you can make that will do the same thing. The best part is that you don't have to send this one to college. Read more…
Are Virtual Assistants Like Alexa And Siri Turning Your Kid Into A Jerk?
You can blame a lot of things for turning your kid into a jerk, including yourself, but according to Quartz you can add some artificial intelligence to your list as well. Let the blame game begin! Read more…
If Your Kid Is Having Trouble In School, They Might Just Need A Stationary Bike At Their Desk
A bulk of being a parent is about putting a daily dent into your kid's seemingly endless supply of energy. Now thanks to companies like Kidsfit, schools are starting to shoulder some of this responsibility and the results are great for everyone involved. Read more…
Guess How Big The Average American House Has Gotten Since 1973
According to a Census report on new houses in the U.S., home buyers since 1973 have been a bunch of size queens. Even as family size reach an all time low on average, the square footage of houses is at an all time high. Read more…
Babies Can Now Have 3 Biological Parents And It's Totally Kind Of Safe
There's a new controversial, yet arguably safe and effective form of IVF that's being tested in the UK and it could help parents reduce the risk of certain hereditary diseases. It could also help you make threesome jokes at the fertility doctor. Read more…
If Your Kid Isn't College Material, Here Are 10 Degree-Free Careers That Pay Well
College isn't for everyone (like half of your fraternity), and if it doesn't end of being for your kid it's not the end of the STEM world. Decent paying jobs that don't require a degree do exist, and the international job search engine Adzuna has ranked them for you, because no one wants to bank roll their babies forever. Read more…
This article was originally published on