Everything You Need To Know This Week If You're A Parent
For whenever your kids give you a break.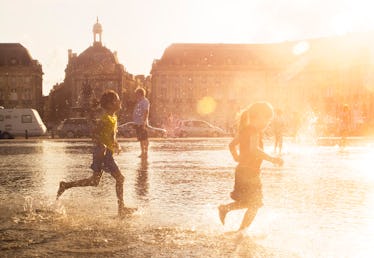 Flickr / Tim Snell
This week in parenting you learned which companies are the best at talking the talk, and how makeup helps your spouse professionally walk the walk. As for your kid, a meme helped them mentally prepare for their first terrible job, or more likely, 7 jobs. It's important for them to learn the value of a dollar, but you can help by learning the value of $100 and how it changes from state to state. If that figure is upsetting to you, a karate instructor may help you get in touch with those emotions by reminding you that it's ok to cry (especially if your state is robbing you). But thanks to a recent scientific discovery, you and you youngster will have one less dairy related problem to cry about. Go ahead and have a cow.
The 50 Companies That Make Job Interviews Less Like Work
You already know the 50 best places to work for dads, but the best places to interview? The job search site Glassdoor has got you covered. Based on candidate feedback, question content, and overall interview difficulty, they've ranked the best companies if you need the practice, or just really like to chat. Read more …
Massive Harvard Study Reveals The Thing Women Will Most Likely Divorce You For
If maintaining a marriage feels a lot like work, that may be because those 2 things are more linked than you previously though. A recent study of over 6,000 married couples reveals why your job is so important to your marriage, because everyone loves bacon being brought home. Read more …
A State-By-State Breakdown Of What It Costs To Have A Kid
Finding out how much your kid costs is a lot like finding out how much you've spent on parking tickets: You don't want to know. Like ever. Don't worry, the analysts at Wallet Hub know better than to give you that exact number. They just want to you to know which states will stick it to you more than others. Read more …
The Best Meteor Shower Of The Year Is Peaking This Week
Though you may have missed the Perseids meteor shower peaking this week, it will remain active until August 24, so there's still plenty of time to catch a falling star. Dust off the camping chairs, pack the cooler, and get ready to piss and moan about light pollution. Read more …
Why Twitter's #FirstSevenJobs Might Be Helpful For Your Kid
This week's latest internet meme has a lot more practical applications for your kid than most. These celebrities' shitty past jobs will give junior a much better idea of how the real world works than the hashtag #blessed ever did. Read more …
How Your Wife's Makeup Purchases Might Help Her Career
Though it may come as a shock to you that your spouse could spend up to $3,770 on mascara in her lifetime, research shows that she's mostly spending money to make more of it. Not only does your wife's appearance affect her career, your good looks do the same for yours. So that's why you're so successful. Read more …
Karate Instructor Teaches A Kid How To Break Through Boards (And Emotions)
A wise man once said "There's no crying in baseball." But in karate? According to instructor Shärath Jason Wilson, you're damn right there is. And it's what helps boys grow into men (so you can let it out too). Read more …
Milk Stays Fresh For Up To 63 Days With New Bacteria Removal Process
You've never cried over spilled milk, but spoiled milk has likely ruined your day before. Now thanks to a new process in addition to traditional pasteurization, those days are a thing of the past. Not being weirded out by perfectly fresh 2 month old milk will take some getting used to. Thanks science? Read more …
Keep Your Kid's Scalp Lice Free With This Helpful Tracker
As much as thinking about lice makes your skin crawl, prevention is the best medicine because these buggers are becoming resistant to other remedies. Not only do you have to think about it, you have to enter your zip code in this tracker too. Otherwise you and your kid could be looking at the worst matching haircuts ever. Read more …
Social Media Isn't Turning Your Kid Into A Narcissist, But You Might Be
Sure, fatherhood is far from a Friar's Club roast, but overpraising them is not the answer either. A new study showed the strongest link between parental overvaluation and future narcissism. But if your kid is really perfect, go ahead and keep blaming Snapchat. Read more …
This Nerf Warthog Cannon Fires 4200 Rounds Per Minute At Your Kid
Few things in life combine your love of Nerf with your love of airborne mini military equipment, but this YouTuber somehow managed to nail both. Let this be a lesson to your kid if they work hard (and pursue engineering), they too can keep riff raff off their lawn in the most epic way possible. Read more …
'The Eagle Huntress' Movie Is About A Badass Mongolian Girl Who Hunts. With An Eagle
You already want your daughter to grow into an empowered woman, and there are few things more empowering than beating the boys at eagle hunting. This documentary will hopefully leave your daughter feeling like she can do anything, except for pay for the popcorn. That's on you. Read more …
A State-By-State Breakdown Of Exactly How Much $100 Is Worth
It's hard to teach your kid the value of a dollar when each state is individually messing with that lesson. A report from the Tax Foundation based on data from Bureau of Economic Analysis, will show you just how far $100 goes in your state. Inflate your lemonade stand prices accordingly. Read more …