32,000 WeeSprout Baby Sleep Sacks Recalled Due To Choking Hazard
The company launched a "fast track recall" to voluntarily remove the product from the market as fast as possible.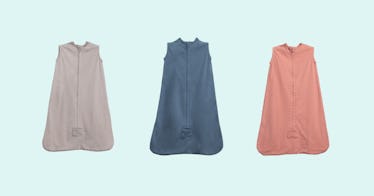 CPSC
WeeSprout, a company specializing in baby products has issued a recall, on its baby sleep sacks. WeeSprout voluntarily recalled approximately 32,000 baby sleep sacks after receiving several reports of the zipper detaching, posing a potential choking hazard, according to the recall notice posted by the United States Consumer Safety Commission (CPSC). Here's what you need to know.
"Safety is our number one priority at WeeSprout," the company shared on its website. The company added that it chose to do a voluntary "fast track recall" to remove "product out of the marketplace in an efficient manner," the company shared on its website. "This is the quickest and most efficient way to alert customers of any product safety concerns."
According to the CPSC notice, there have been 17 reports of the zipper detaching. At this time, there have been no reported injuries.
Which baby sleep sacks are included in the recall?
The CPSC outlines the products affected by the voluntary recall, which includes 100% cotton sleep sacks sold in all sizes, which range from newborn to 36 months by WeeSprout.
All color ways of the product are included in the recall, including rosemary stitch, dotted rose, blue dusk, and gray stitch.
The sleep sacks were sold online at Amazon.com and on WeeSprout's website from August 2022 through December 2022 for about $17 each.
What should parents do if they have the recalled product?
According to the CPSC recall notice, parents who have one of the recalled sleep sacks in their home are being asked to "immediately stop using the sleep sack, and cut it in half with a pair of scissors, take a photo of it, and discard it in the household trash."
Consumers are asked to email a photo "documenting that the sleep sack has been destroyed along with your contact information" to WeeSprout at weecare@weesprout.com. WeeSprout will issue refunds or credits in the form of gift cards to those who have the recalled product.
Are infant sleep sacks safe for babies?
According to the Cleveland Clinic, infant sleeping sacks are very safe for babies to sleep in. There are also some benefits to their use for babies — one 2019 analysis that found sleep sacks to be beneficial in preventing sudden infant death syndrome (SIDS).
However, it's important that parents also follow the other sleep guidelines for safer infant sleep. Babies should always be alone, on their back, and in their crib. Further guidelines outlined by the Centers for Disease Control and Prevention (CDC), include:
Place baby on their back while sleeping, including all naps
Baby should always sleep in their own bed (crib, bassinet)
Keep your baby's sleep area in the same room where you sleep
Baby's mattress should always be firm and with no incline
Keep baby's crib or bassinet free from bumpers, toys, blankets, and pillows
For more information on safe infant sleep, visit the CDC. For additional details on the WeeSprout baby sleep sacks recall, visit the CPSC notice.