Pediatric Group Recommends Students Wear Masks in School This Fall
The AAP's recommendations vary slightly from the CDC guidelines.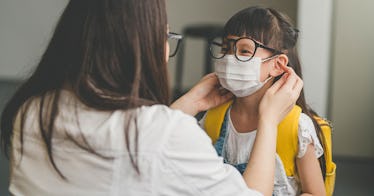 As parents start to plan for the upcoming school year, a pediatric group has issued a list of recommendations to keep students safe in the classroom this fall. And the group is recommending kids wear masks – whether they're vaccinated or not. Here's what you need to know.
According to CNN, The American Academy of Pediatrics (AAP) released their latest guidance related to COVID-19 and the upcoming in-person school year. And in the recommendations, the group feels that kids aged 2 and up should wear masks for in-person learning this coming fall regardless of vaccination status.
"The AAP believes that, at this point in the pandemic, given what we know about low rates of in-school transmission when proper prevention measures are used, together with the availability of effective vaccines for those age 12 years and up, that the benefits of in-person school outweigh the risks in all circumstances," the guidance reports.
Several factors were driving the guidance from the AAP, including the fact that a large portion of students isn't eligible to receive a vaccine yet. Currently, only kids aged 12 and up have a vaccine that's been approved for use. Encouraging all students and teachers to wear masks in class will help protect those who cannot get vaccinated, reducing the transmission of the virus.
"There are many children and others who cannot be vaccinated," Dr. Sara Bode, chair-elect of the AAP Council on School Health Executive Committee, said Monday in a statement, according to CNN.
"This is why it's important to use every tool in our toolkit to safeguard children from COVID-19. Universal masking is one of those tools and has been proven effective in protecting people against other respiratory diseases, as well," she continued. "It's also the most effective strategy to create consistent messages and expectations among students without the added burden of needing to monitor everyone's vaccination status."
The AAP's recommendations on mask-wearing mimic an earlier recommendation from the World Health Organization (WHO). However, it varies slightly from the Centers for Disease Control and Prevention's (CDC) latest guidelines that suggest only unvaccinated students need to wear masks. "Consistent and correct mask use by people who are not fully vaccinated is especially important indoors and in crowded settings, when physical distancing cannot be maintained," the CDC states.
However, with the Delta variant circulating across the country and being more contagious, parents and experts are concerned about what the school year will look like this upcoming fall.
Regardless, it's clear by all experts that having kids back to in-person learning this fall is a priority. "The pandemic has taken a heartbreaking toll on children, and it's not just their education that has suffered but their mental, emotional and physical health," Sonja O'Leary, chair of the AAP Council on School Health, said in the Monday statement. "Combining layers of protection that include vaccinations, masking and clean hands hygiene will make in-person learning safe and possible for everyone."