This Viral TikTok 'Water Cup' Challenge Is Actually Great for Kids' Fine Motor Skills
Unlike many other viral challenges, this is one you'll want the kids to try!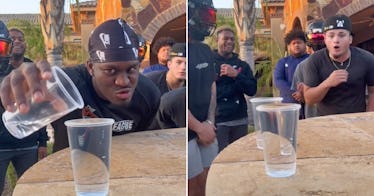 thefbhouse / TikTok
There's a new challenge going viral on TikTok that has people pouring water into a cup and trying to get as much in without spilling over. The "water cup challenge" isn't dangerous like some previous trends, doesn't create a huge, life-altering mess, and participating in this challenge actually has some benefits, particularly for kids' fine motor skills, though toddlers might be doing it on a different skill level than, say, a group of young adults. Here's what you need to know.
What is the water cup challenge that's going viral?
incredibly high surface tension
Why parents should try the water cup challenge with their kids
Reach for Montessori@theyeetbaby
This article was originally published on