Watch the Trailer for the Upcoming Garbage Pail Kids Documentary
The trailer for '30 Years of Garbage: The Garbage Pail Kids Story' tells the story of the artists who brought counter culture to kids.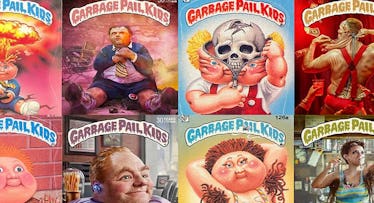 Topps
In 1985, Pulitzer Prize-winning cartoonist Art Spiegelman brought a group of underground, anti-establishment cartoonists to create what would be known as Garbage Pail Kids. The strange and, at times, shocking trading cards that began as a parody of the extremely popular cabbage-related doll transformed into a cultural phenomenon, serving as an absurd lampoon of societal hypocrisy that has endured for more than three decades. Now, the Garbage Pail Kids' rebellious origin and unexpected rise is getting an in-depth look in the new documentary 30 Years of Garbage: The Garbage Pail Kids Story. A trailer for the upcoming documentary has been released, showing how these cartoonists were able to build a puke-fueled empire.
The trailer emphasizes the idea of Garbage Pail Kids successfully integrating counter-cultural thought into pop culture specifically aimed at kids, something which is not normally done. The controversy surrounding the cards was massive throughout the '80s, as many felt the grotesque images on the trading cards were inappropriate for kids and celebrated values that should be condemned. In the height of the cards' popularity, they were banned from schools across the country because they were seen as a distraction that encouraged kids to engage in bad behavior.
Several of the original artists, including Spiegelman, are shown in the trailer discussing why they created the cards in the first place and the popularity and subsequent backlash that they experienced. Cartoonist Mark Newgarden sums up the Garbage Pail impact perfectly when he says, "The kids loved it. The parents hated it. That's where we wanted to be."
30 Years of Garbage will be released in select theaters starting August 18, before expanding to more theaters throughout August and September. The documentary will then be released nationwide via VOD and on DVD. Whether you loved or hated these gross and hilarious characters, this looks like a fascinating look at art as a form of rebellion.
This article was originally published on