This Three-Year-Old Perfectly Raps a DMX Song While Doing Her Chores
"Someone taught my 3-year-old a DMX song and ... I'm just not sure where to go from here."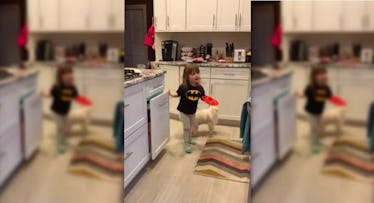 Twitter: Sarah Pelissero
DMX probably isn't the first person to come to mind when you think of kid-friendly musicians. But maybe he should. And maybe this three-year-old's absolute fire rendition of the New York rapper's hit song "Party Up (Up in Here)" might just change your mind. The young girl's natural rhyming abilities as she casually talks the legendary chorus "Y'all gonna make me lose my mind up in here, up in here" while cleaning up after dinner is brief but fantastic.
At first, Sara Pelissero, a multimedia producer for a news station in Minneapolis and the mother of the rapping prodigy, was confused. She had never introduced her daughter to the man behind such hits as "Ruff Ryder's Anthem" and "X Gon Give It To Ya." But after hearing her daughter's impromptu rendition, Sara decided to whip out her trusty iPhone and capture some of the performance on film. She then uploaded the video on Twitter with the caption "Someone taught my 3-year-old a DMX song and … I'm just not sure where to go from here."
The video quickly went viral and in just two days has been viewed 3.64 million times and retweeted by more than 61,000 users. Thousands of people responded to the video to express their amazement at Sara's daughter's natural flow and a few parents chimed in saying they were equally impressed by her cleaning up after herself without throwing a tantrum. Probably the bigger feat, all things considered. Hopefully, this isn't the last we've seen of this rapping toddler, though, as we'd love to see her rendition of "Llama Llama."
This article was originally published on