ICYMI: Dad Saves Beer, Kid, and Home Run Ball at Diamondbacks Game
This guy's Dad Reflexes are off the charts.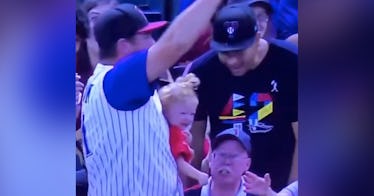 The best catch of the baseball season happened over the Fourth of July weekend and it was made by a dad who managed to make the grab while holding his young daughter in his arm. The catch in question occurred during the Arizona Diamondbacks' 5-2 loss at home to the San Francisco Giants on Sunday, as the unnamed dad made a Hall of Fame-worthy catch when a foul ball came flying his way.
Let's break down just how impressive this catch is, as you really need to dive into the details to fully appreciate everything this guy manages to pull off purely off dad instincts. First, he manages to barehand catch the foul ball, which is no small feat by itself. And this was not a pop-up. This was a line drive, which adds an extra level of difficulty for the no-glove grab.
That alone would have made it a highlight-worthy catch, but it turns out he was just getting started, as manages to switch his toddler from one arm to the other mid-catch in order to ensure that he does not spill any of his beer on his child or on anyone around him. It all goes perfectly, as neither the ball, the baby, nor the beer touch the ground.
The only real question remaining is if Arizona should consider adding this golden gloved dad to its roster. After all, the Diamondbacks are currently the worst team in baseball and they are 30 games out of first place in their division before the All-Star break. It's honestly hard to imagine it getting any worse for the team, so why not give this sure-handed dad a shot on the team? I mean, if he's this good at grabbing a ball with a toddler in one arm, imagine how well he would do with both hands completely baby-free.