One MLB All-Star Is Still Bringing the Heat, This Time to a Kids' Pickup Game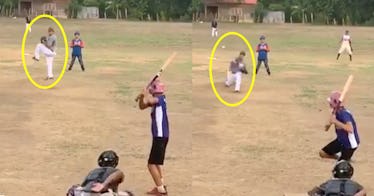 bcolon40/Instagram
Bartolo Colon's MLB career may be over but the former CY Young winner showed he still has some heat on the mound by posting Instagram videos of himself striking out a bevy of batters in his native Dominican Republic. Although, to be fair, Colon is facing off against a bunch of pre-teens who probably aren't used to facing off against one of the most dominant pitchers of this century.
The videos show the 46-year-old striking out a couple of batters with his trademark heater. You might assume that Colon wouldn't go too hard against kids but based on the videos, he's not pulling any punches and neither of the batters manage to make contact with a single pitch. In fact, one of the kids doesn't even swing, probably because he's intimidated by the fact that he's expected to hit off a four-time All Star.
While it's unquestionably hilarious to watch Colon mercilessly strike out a bunch of kids with his pro-level pitching, it's pretty cool that someone who pitched in the majors for over two decades taking the time to play with some kids who probably grew up idolizing him.
And who knows? Maybe these videos will get an MLB team to give Colon another look and call him up for next season. Given the record-breaking number of home runs hit this year, it's hard to imagine a lot of teams' pitching staffs getting any worse by bringing Colon on board. But until then, we hope he keeps terrorizing young batters with his killer fast ball.
This article was originally published on