Washington Will Become The 10th State To Ban Assault Weapons. Here's Why It Matters
Another state is about to limit access to firearms.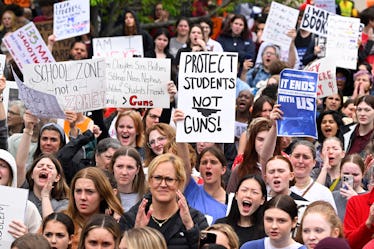 JOHN AMIS/AFP/Getty Images
On Tuesday, April 25, Washington State Governor Jay Inslee signed a trio of gun control bills into law — one that will ban semi-automatic rifles, and two that mandate waiting periods and allow gun manufacturers in the state to be held legally accountable to the state Attorney General. The semi-automatic rifles ban will go into effect immediately.
The new semi-automatic rifles law will ban the sale, manufacture, distribution, and importation of semi-automatic weapons. Those who already own these firearms will be able to keep them.
To be clear, the bill focuses on the sale and distribution of semi-automatic weapons — that is, firearms that shoot one bullet per trigger pull but automatically reload a bullet into the chamber, allowing for quicker firing.
As a result of the new law, more than 50 named models of semi-automatic rifles will be banned, including the AR-15. The weapon of choice for those responsible for the majority of mass shootings in the U.S., the AR-15 was used in the Uvalde and Newtown massacres as well as the Las Vegas shooting that left 58 concertgoers dead, close to 1,000 injured, and holds the record as the most deadly shooting in the U.S.
The new law was signed alongside two other commonsense gun laws recently passed by the House in Washington State. One implements a 10-day waiting period and proof of firearm safety training on all new gun purchases and goes into effect January 1, 2024; the other legislates the ability to hold gun manufacturers liable for negligent sales and goes into effect in July 2023, per The Olympian.
The House was deeply divided on the semi-automatic ban, with every Republican member voting against its passage. It has already drawn legal challenges from Second Amendment groups who argue the ban violates the constitutional right to bear arms and will likely face scrutiny from the courts in light of last year's Supreme Court ruling that loosened gun regulations and decreased the ability of states to legislate for gun reform. That SCOTUS decision requires state governments to prove that gun laws are "consistent with the Nation's historical tradition of firearm regulation."
Republican lawmakers, as expected, opposed the new semi-automatic ban, claiming it infringes on Second Amendment rights and that mental health issues are to blame for the rash of mass shootings that have plagued the country for the last 25 years.
"[This bill] clearly violates our state and federal constitutions, which is why it will end up in court immediately," said state Senator Lynda Wilson.
Semi-automatic weapons bans in nine other states, including California, Connecticut, Delaware, Hawaii, Illinois, Maryland, Massachusetts, New Jersey, New York, and the District of Columbia, have been upheld as Constitutional despite the 2022 SCOTUS ruling.
In mid-April, the state of Michigan also passed a slew of landmark gun safety legislation. Those bills, signed by Michigan Governor Gretchen Whitmer, largely targeted strengthening background checks in the state and gun storage laws.
Similarly, in June of 2022, the Biden Administration passed a gun safety package that enacted what represents the most sweeping federal gun reforms in decades. It allocated funds to states to bolster their red flag laws. It also closed the "boyfriend loophole" to ensure that people — not just married people — with histories of domestic violence will no longer be eligible to buy a gun.
Biden's gun safety package also enhanced background checks. Crucially, unlike this Washington State law, it did not ban assault weapons. It also didn't raise the age of gun ownership from 18 to 21, something many gun safety experts have said could be crucial to stemming gun violence.
A federal law banning semi-automatic weapons is unlikely. The only thing that has come close to that was a law enacted from 1994 to 2004 that banned assault weapons in the U.S.