First Free Beer, Now Free Joints if You Get Vaccinated Against COVID
The "Joints for Jabs" program lets you celebrate your vaccine shot with some weed — if you live in Washington State.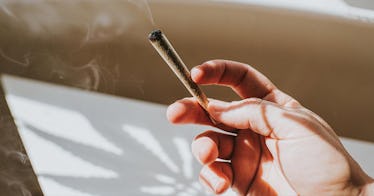 As the vaccination rates have started to slow down, states have tried to come up with creative ways to incentivize people to receive the COVID-19 vaccination. From Ohio doing a weekly lottery of a million dollars to free beers and sides of french fries, states are doing anything they can to convince people to protect themselves against COVID-19. And in the state of Washington, you can now celebrate getting your vaccination shot by smoking some reefer, as the state's liquor and cannabis board announced Monday that adults could claim a free marijuana joint when they receive their first or second vaccine dose at an active clinic. Yep!
The promotion, which is called "Joints for Jabs," began on June 7 and will run until July 12, giving Washington state residents plenty of time to take advantage of the offer and indulge in some of that kind bud.
Participating marijuana retailers are allowed to give customers who are 21 or older a prerolled joint if they have gotten their first or second dose of the vaccine.
In May, Washington started a similar program that allowed vaccinated adults to receive a free beer, wine, or cocktail from participating establishments through the end of June.
So far, Washington has been the only state to offer free weed to get people vaccinated but dispensaries in Arizona and Michigan created similar offers, giving free edibles and joints to customers who could provide proof of vaccination. Other states have come up with their own incentives to get people vaccinated, including several states creating lotteries where vaccinated individuals could win up to $1 million.
According to the New York Times' vaccine database, 58 percent of people in Washington have received at least one dose of the vaccination, with 49 percent being fully vaccinated. That places the state in the top 15 for vaccination rates but as the vaccination rates have slowed down, there are growing concerns about whether or not America will be able to reach President Biden's goal of having 70 percent of adults fully vaccinated by July 4.