Wanna Buy a Bike? It's Going to Be Really Hard Right Now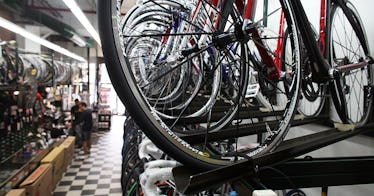 Getty
According to Quartz, the bicycle in America has reached its third great consumer-led revival in 150 years due to the coronavirus pandemic. Ever since the Covid-19 pandemic hit and worked its way across American cities, more people than ever have taken to the humble bicycle to get exercise, to get out of the house, and to frankly deal with the shifting size of our lives, no longer commuting, going out to eat, or enjoying the normal breadth of activities we did pre-pandemic.
Bicycles have become the item du jour across the United States; in March and April, bike trips on trails rose by 57% compared to the same period in 2019, according to the Rails-to-Trails Conservancy. Bikes under $1,000 have been flying off shelves to the point where they've been nearly impossible to keep in stock; REI states they've sold four times as much cycling equipment as the same time last year — and that includes bike gear for kids as well as adults.
One market research firm reported that sales of bike and bike shop services totaled near $733 million in March, representing a near 50% jump from last year, and sales of bikes rose 121% in March, with more than 250,000 bikes sold. But it's not just about people wanting to get into the great outdoors: indoor bike stands, which people can use to exercise indoor, or stationary bikes, also tripled in sales to about 200,000 units in March, per Quartz.
The extreme demand for bicycles has led to a shortage, with some stores unable to keep stock of the basic commuting tool, leading to long waits to find affordable beginner bikes. So you might want to set up those Google alerts if you've been looking for something to help you cruise around the neighborhood or hit the many beautiful biking trails this country has to offer!
This article was originally published on