What the Heck Is Walmart Plus?
The brick-and-mortar store is looking to dethrone Amazon Prime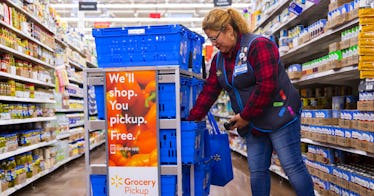 Walmart
For many parents, Amazon Prime has changed the way we manage our household and Walmart is looking to make our lives easier, too. The company has announced its plans to launch a new service called Walmart+, and it sounds really promising. Here's what you need to know.
Walmart already as a delivery service where customers can get same-day delivery of groceries from the participating Walmart Stores, but they're revamping. The company is looking to get in on some of that Amazon Prime success and will be launching Walmart+.
There aren't a lot of details available on what Walmart+ will look like, but according to Recode, over the past 18 months, Walmart has "explored creating its own paid membership program that would include perks that Amazon can't replicate, in part to avoid a direct comparison to Prime."
It sounds like the company is looking at starting a public testing membership as early as next month. The program is going to be a rebrand of their current Delivery Unlimited service. In that service, the customer pays a yearly fee of $98 and will receive unlimited same-day delivery of fresh groceries.
But, just as Amazon Prime comes with added perks, Walmart+ is going to look into that as well. Reports say the company is looking at adding a unique feature to Walmart+ that would allow customers to use text messages to place their orders. Long term, the company hopes to roll in other perks like "discounts on prescription drugs at Walmart pharmacies and fuel at Walmart gas stations, as well as a Scan & Go service that would allow shoppers to check out in Walmart stores without waiting in line."
No details have been released on if Walmart+ will change their current pay structure from the Delivery Unlimited service, but according to Recode, if Walmart hopes to compete at all with taking some of the customers from Amazon Prime, they're going to have to do something more than just grocery delivery.
Guess we will stay tuned for more details!
This article was originally published on