Which Theme Park Rides Have the Longest Waits? This Graph Will Shock You
If you want to make happy memories, you'll have to hurry up and wait.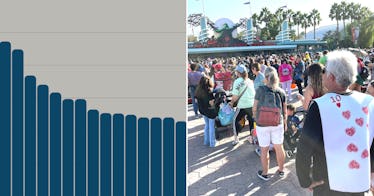 Fatherly; Jeff Gritchen/MediaNews Group/Orange County Register via Getty Images
One of the biggest reasons people love to go to Disney is for the park rides and attractions. The reality of a visit is that going you'll probably have to spend some time waiting around in a line. Some rides and attractions are more popular than others, which translates to longer wait times. But which of them have the longest wait times? There's a visual that gives a quick glimpse at how long you should expect to wait.
Reddit user RevolutionarySun9574 shared an image to Reddit's popular community, Data is Beautiful. The image is an interesting visual that shows which attractions and theme park rides have the longest wait lines.
RevolutionarySun9574's chart was compiled using Thrill Data's waits dataset, a site that "helps you use the power of data to get the most out of your amusement park visits all over the country." Their datasets track wait times at various parks across the country to allow guests to map out the best options for their visit, and to create wait time alerts, custom agendas, and more.
After collecting the data from Thrill Data, RevolutionarySun9574 used Datawrapper to create the bar chart and put it all together using an online graphic program. And his results show that of the top 14 listed, 13 of the park rides and attractions are at Disney, the one lone non-Disney one is from Universal Studios.
The graph isn't clear on what the numbers represent, but we're going to assume those mean the number of minutes spent waiting in a line. We can see the top, Star Wars: Rise of the Resistance, is listed as taking 114 (minutes?) in line, and the ride that takes 15th spot will take an estimated 57 minutes waiting in line.
We should take this data with a grain of salt. Reading through the Reddit comments, some people questioned some of the results. Specifically calling attention to the strange entry: Running 1/4 marathon. Which, if that's a 6-ish mile race, taking about an hour to complete it isn't that bad – but that's not a theme ride or attraction either (though Disney does have a Walt Disney World Marathon Weekend).
Either way, we all know that going to a popular theme park or attraction will always come with some built in time that we will need to stand around and wait. It's all part of the fun.