VP Harris Says We Need to 'Creatively' Solve Student Debt
The student loan moratorium has been extended to May 2022. But Biden has yet to act on his campaign promise to cancel $10,000 in student debt.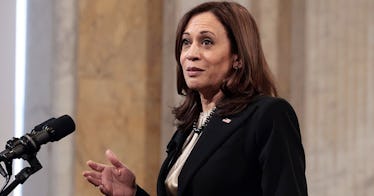 Anna Moneymaker/Getty Images
Forty-three million U.S. borrowers got a reprieve when the Biden administration announced that they would extend the moratorium on student loan payments until May 2022. However, many of the big questions about student debt — the weight of which crushes the financial prospects of adults — are still unanswered.
Vice President Kamala Harris recently addressed the crisis on Face the Nation when asked by host Margaret Brennan about Biden's promise to cancel $10,000 in federal student loan debt per borrower. Harris responded somewhat cryptically, saying, "Well, I think that we have to continue to do what we're doing and figure out how we can creatively relieve the pressure that students are feeling because of their student loan debt."
Social media users latched onto Harris' use of the word "creatively" and wondered what exactly a creative solution to the student loan crisis would look like. Suggestions ranged from "$50 off with your next insulin purchase of $2000 or more" to the idea that the administration would offset student loan debt with Starbucks gift cards and pizza parties.
There were several more serious suggestions— cancel the interest on student loans and move interest paid to the principal balance—as well as arguments for outright canceling all federal student debt. "…With a majority of people already in forbearance or behind on payments pre-pandemic, the country can clearly survive, not to mention it'll save on enforcement costs. Meanwhile, people will have several hundred to a thousand more to spend/mo," one Twitter user said.
One thing most everyone can agree on, though, is that student loan debt should be addressed in a more permanent way instead of the administration effectively kicking the can down the road to be dealt with later. American student loan debt totals roughly $1.6 trillion, with an average debt of around $37,000 per borrower.
According to a recent analysis by the Roosevelt Institute, when student loan payments resume, approximately $7.12 billion per month will be diverted from the pockets of Americans, potentially resulting in $85.48 billion annually removed from the American economy. The institute, which recommended the complete cancellation of student debt, said that $173.83 billion would be added to the U.S. gross domestic product in the first year alone if the debt is canceled.
This article was originally published on