Dad's TikTok ABC Dance Proves Virtual Learning Isn't All Bad
Dads are always ready to ham it up.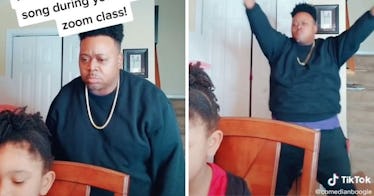 TikTok / comedianboogie
This school year has been a challenging one for many families. Remote learning requires a learning curve, and it's not been easy. But there's one dad who is making the most of it with dance. And in doing so, he's reminding us all that virtual learning isn't all bad.
Major Bynum, a comedian who goes by the stage name Comedian Boogie, is a father and has a 5-year-old little girl at home. His daughter is doing remote learning from home during COVID. While we're sure there have been stressful moments, Major is making the most of having his child learn at home. And he's been having fun listening in to the lessons she's learning.
In a fun TikTok video, Major shared one of his favorite ways to make the most out of virtual learning. He eavesdropped in on his daughter's ABC lesson and felt the need to move his body. In the caption of the video, Major wrote, "Anybody else be enjoying this new way of learning?"
The song starts off "Everybody learn your ABCs. Start with A and end with Z," in a fun rap rendition his daughter's teacher likes to sing to the class. As dad walks past his daughter on her computer, Major is compelled to bust a move or two.
We dance at our house all the time," Major told POPSUGAR. "A teacher made up that song, and my daughter was watching it. So I said, 'Watch it again, I'm gonna make another video.'"
He made the video, posted it on TikTok, and it's been watched more than 440,000 times. And he brightened the day for thousands, reminding us that while this season of life is challenging, dancing will always be right.
Leave it to dad to make the ABC song fun again!
This article was originally published on