Disney World Has Virtual Rides. Here's How They Work
We've tried them and they don't suck.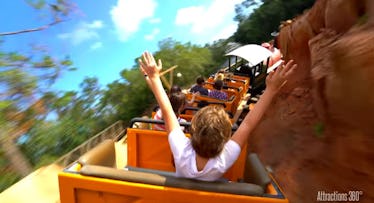 Credit: YouTube / SoCal Attractions 360
Since we're discouraged from public gatherings, and many of those larger places have temporarily closed their door down, parents are left to their own in entertaining their kids. We can't take them to the playground, many public malls, libraries, and community centers are closed. And so are all the amusement parks, museums, and basically anywhere other than home that our kids can be entertained. And although Disney World and Disneyland are closed, you can give your kids the enjoyment virtually thanks to the internet. Here's how it works.
The videos giving virtual tours of the theme parks aren't new, but they've never been more relevant than they are right now. Although they're not official from Disney or the other parks, people who have visited have made videos allowing us to venture along with them.
I tried a few of them out with my kids, and while they're not the real thing, if you have the right set up, these can be really fun. We've never visited Disneyland or Disney World, so we can't compare them to real-life, but getting the most out of these virtual rides is all about the screen you're watching on and the darkness of your room. If you have a giant TV and can play the YouTube videos with near darkness, these give a similar feel to watching it on a VR set. You get a bit of a 360 feel and
But, if you're looking for the same experience on your small phone screen in the middle of a bright day, it won't work. These videos aren't going to be as exciting. The filming and camera work is excellent though and watching a 360 experience is better than one that's not filmed in that way.
It is fun if you're looking for something to do with your kids, and these are a cute way to give them some break in their day from staring at their siblings. IF amusement parks aren't your thing, the virtual tours of museums and other cool parts in the world that you can browse through as well.
Not the same as the real thing, but really better than nothing.