Viral Video of Toddler Hiding In Cabinet Is All Of Us In Quarantine
The toddler knows a thing or two about how to create a zen personal space.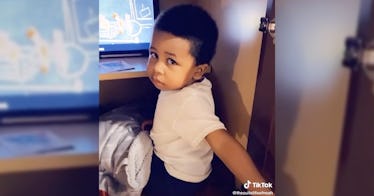 @thesuitelifeofnoah/TikTok
A viral video of a toddler taking refuge in a kitchen cabinet has gone viral on Twitter — and for good reason. Mom Blair Monique Walker, who lives in Atlanta and works as a singer-songwriter, posted a one-off video of her looking for her toddler son, Noah Alexander — and the video is totally hilarious.
"So, we're in our basement. He thinks nobody knows about his hiding spot," mom Walker says as she approaches a kitchen cabinet that is closed. When she opens the door, Noah is sitting inside, eating a snack under a blanket, sitting upright, and watching TV on his iPad.
"What are you doing in here, bud?" she asks. "You have the iPad — what are you doing?" He doesn't answer and turns back to watch the cartoons he has alongside snacks and what appears to be a marker to draw with.
"Are we disturbing your peace?" Walker asks, and her son, Noah, nods yes. "What do you mean? Do you want me to close the door?" she adds, and he nods yes again. She asks him a few more questions but when it's clear he doesn't want to answer — and he really just wants to be left TF alone — she says, "Okay buddy, I'll let you be." She closes the door behind him and walks away. The video was reshared by The Shade Room.
The video is hilarious not just because the toddler has created an ingenious, and honestly even enviable, quarantine hiding spot, but also because he just seems like a young adult who needs some space after quarantining with others for way too long. After all, being home 24/7 with our spouses and our kids — who we normally usually had at least 40 hours a week away from — hasn't been easy on any of us.
And Noah, even though he's just a toddler, appears to be no different. The video is also great because of how the mom handled the predicament — she respected her toddler's space and let him have autonomy over his interactions with others. Noah wanted space, and to eat his snacks, and hang out watching television in peace. If we could all be so lucky.
This article was originally published on