Hilarious Viral Videos Show Dad Giving His Toddler a 5-Star Dining Service
Call it high chair haute cuisine.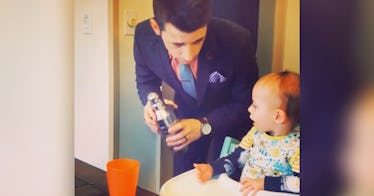 Restaurants around the country might be closed to diners at the moment, but one toddler is still getting five-star service from the comfort of his high chair. Call it one of the perks of having a sommelier for a dad.
Jonah is the lucky kid in question, and California-based all-around wine dude Jason Booth is his dad. The two are the co-stars of "L'Dad's Chateau," a recently-launched Instagram video series in which Jason, always clad in a dapper suit and tie with matching pocket square, serves Jonah an elaborately plated meal complete with the kind of spiel you expect from the waiter at a $$$$ restaurant.
But with puns. Lots and lots of groan-inducing puns. And soft piano playing in the background, likely a nod to the score of Chef's Table on Netflix.
In the first video, Jason brings out "Pita Pan and the Lost Boysenberries," a dish featuring "peas de résistance, Istanballs d'Turkey, cucumber unencumbered à la Buffalo Bill."
The second installment of the series is a lunch service for two. Jonah had spinach nuggets with a "Cheese All That border by our Rachel Leigh Cook" while his "visiting dognitary" enjoyed a "CharPoocherie board." Neither seemed particularly impressed by the impressive plating, but the taste of the food did seem up to their standards.
The most recent meal included a pre-meal "aperitwofrontif" of "deconstructed ice" a.k.a. water, "not-so-sucky succotash, and bananas flamMichaelbé," a pun that is truly nonsensical and thus a spot-on dad joke.
Booth started the series when he found himself quarantined with his family, and given the current state of the pandemic — and the endless supply of possible dad puns — we're expecting to see new culinary and linguistic creations well into the future.
This article was originally published on