Awesome Kid Goes Viral, Recreates 'Pee-wee's Playhouse'
The kid made a Halloween special of 'Pee-wee's Playhouse' and thoroughly improved upon the original.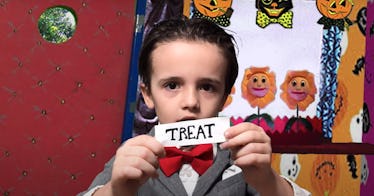 Pee-wee's Playhouse
might have been the pinnacle of 90's television in terms of quality, childhood entertainment. For five incredible years, Pee-wee Herman ruled the kid-sized television waves with his signature bicycle, his commitment to camp, and his stacked Rolodex of celebrity friends from Cher to Grace Jones to Little Richard. Although the show sadly went off the air in 1990, Paul Reubens, AKA Pee-wee, is an American icon that all Gen-Xers and Millennials remember for his complete and total weirdness, and his reign over Saturday mornings on CBS. Today, kids who know who Pee-wee is are just lucky to have very cool parents who force oldies on their kids like the old television show or by forcing them to listen to vinyl, rather than Spotify. One kid in Texas, Roosevelt, is just one of those kids — and over quarantine, re-created Pee-wee's Big Adventure, shot for shot, with his family. Yeah, quarantine has made us all that bored — but it definitely hasn't made all of us that creative. And now, Roosevelt has kicked up the ante with a brand new Halloween special — one so brand new that it's not even a shot-for-shot remake: Roosevelt wrote it himself. After all, Pee-wee's Christmas specials and adventures were always the best part of the show. But now, there's a spooky, 21-minute episode waiting for us on YouTube — and it even has a special guest: Pee-wee Herman himself. The episode is seriously one of the most creative things to come out of quarantine, with claymation, a scoring track, fun editing that looks just like the old Pee-wee episodes of yore. Classic Pee-wee characters like Clocky and Jambi the Genie come and say hey, among others, and Roosevelt really brings it home with this ultra-creative super spooky, really fun re-creation. The creativity, level of talent, and execution are just so fun to see. The next generation… might be cooler than all of us combined.
This article was originally published on