Viral Video Of Kid Zoom-Bombing Dad's News Broadcast Is Too Funny
This sweet girl deserves a LEGO Frozen movie, honestly.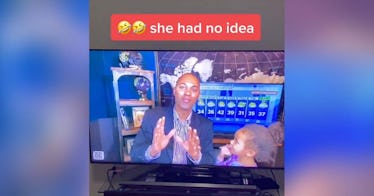 This past year has brought so many challenges. A portion of working parents has shifted their job to at-home due to the coronavirus. And on top of this, our kids have been home as well. As a result, more of us are having "BBC Dad" type moments where a kid interrupting becomes the viral moment. But there's a difference between a kid interrupting a Zoom meeting and a kid interrupting a live weather broadcast. A resurfaced viral video of one dad navigating just that has gone viral — for all the right reasons.
Dad and meteorologist Demetrius Ivory has been juggling his on-air weather broadcasts while his twin girls are home. He's been interrupted live on air a few times, and a resurfaced video of one of those moments is too funny.
In the tirelessly funny clip that appears to be from colder days, Ivory, who works for WGN-TV, a local Chicago news station, handled it so well. In the clip, Demetrius, who has been working from home since the pandemic started, is on-air giving a weather update from his home office.
Harlow Winter and Hadley WalkerWGN-TV
This article was originally published on