Watch Alex Trebek Dropping the F-Bomb In TV Promo Bloopers
Alex Trebek was a heck of a guy.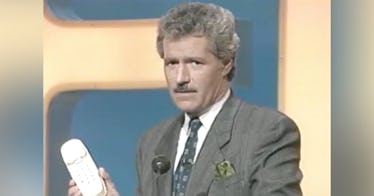 After the news of Alex Trebek's passing from his diagnosis of stage four pancreatic cancer became public, the public mourned. Trebek, who hosted Jeopardy! for 35 years, was a mainstay of American television with the popular game show and his passing is rightfully tragic.
After his death, celebrities and friends like Ken Jennings, who made Jeopardy! history and reinvigorated the viewership of the show, took to Twitter, Instagram, and more to share their favorite stories about the daytime-TV-hero who made game shows fun again after his passing. But perhaps no tribute is better than one that just went viral on Twitter — a video of Trebek in yesteryear, struggling to get through shooting promos.
The 30-second video is of Trebek shooting promotional videos for the phone version of Jeopardy!, except the video is only the outtakes, not any of the successful takes of the commercials. Parents, be warned: the video is about 30 to 50 percent of simply explicit language.
It's funny to hear Trebek curse — partly because of his squeaky clean image — mostly because the show that he ran for nearly four decades was one of the most family-friendly game shows in the world. But also, because it reminds us of how funny and likable Trebek always was and will be in our hearts. Luckily, we will have six more weeks of Trebek as Jeopardy! will continue to air new episodes that were filmed prior to his death.
"So keep watching Jeopardy!, 24 hours a day, ah… you dumb son of a bitch, you don't watch it 24-hours-a-day," Trebek says in one shot before walking off the screen. RIP Trebek. We'll miss you forever.