Viral TikTok of Dad Crying at Infant Daughter Is Too Relatable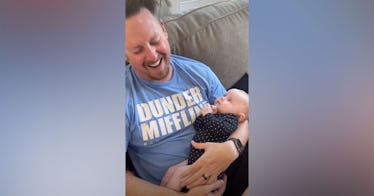 We always hear that when our kids are born, we will feel that instant bond. While that's not true all the time – and that's totally OK too – sometimes we're caught off guard by how powerful we've fallen in love with our baby. And one dad recently went viral on TikTok because we saw the exact moment he fell madly in love with his baby daughter. Here's what happened.
On July 27, mom Crystal Ransons shared a TikTok of her husband and their brand-new little girl. The parents are already mom and dad to two boys, both in toddlerhood. But with their first little girl, dad realized he might not be cut out to be a girl dad. Except his reaction is the exact reason, his wife (and all of us) know that he was meant to be a girl dad.
Crystal posted a TikTok video of her husband holding their little girl while sitting on the couch. The video titled "He was made to be a girl dad" is equal parts adorable and relatable. As she's sitting in his arms, dad's crying while his baby looks up at him. He's comfort patting and rocking her, and when Crystal asks what's wrong, his answer was peak girl dad.
"She was crying and looking at me, dude," he said while laughing and crying. When Crystal replies, "the look she's giving you," and dad looks back down at her, it's all over.
"OK, I'm done," he says. He says another jumbled sentence through laughs and tears and asks his wife to stop filming. In his mind, his wife's mind, or ours, there is no question that this little girl has her dad wrapped around her finger. And the comment section is proof of this, too.
"Wow. You filmed the actual MOMENT she realized how powerful she is," one person commented. "This is immaculate energy."
"He's a goner!" another wrote. "No one will EVER make his little girl cry without consequences."
"Dad just give her your wallet," another joked.
The video racked up 7.6 million views in one day, had over 1.2 million likes.