Viral Meme Imagines Gwyneth Paltrow's Yoga Brags as 'Sopranos' Mobster Threats
The Goop founder should not be crossed. Clearly.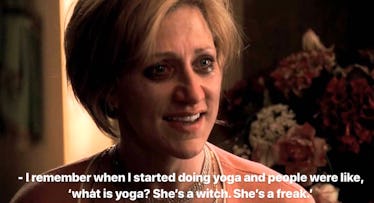 Twitter / @nickusen
Remember Paulie from The Sopranos? Remember how he used to tell you exactly how it was going to go down and exactly why you should keep your mouth shut? Now imagine if Paulie, or Tony Soprano or even Christopher were into yoga and on the payroll of Goop. A new — and hilarious — viral tweet recontextualizes recent comments Goop guru Gwyneth Paltrow as threats and boasts made by the gang members of The Sopranos.
On Monday, Nick Usen shared four images on Twitter from The Sopranos accompanied by recent quotes from Paltrow. The quotes themselves come from two profiles she's done recently; one in The Wall Street Journal Magazine called "Gwyneth Paltrow Wants to Convert You" and another from the Financial Times titled "I'm a Real Person." In both pieces, Paltrow floats the concept that she invented the contemporary popularity of Yoga. Both versions of the quote more-or-less read as follows:
"Forgive me if this comes out wrong, but I went to do a yoga class in L.A. recently and the 22-year-old girl behind the counter was like, 'Have you ever done yoga before?' And literally I turned to my friend, and I was like, 'You have this job because I've done yoga before.'"
This is hilarious on its own, but it's even better when it's coming from Paulie Gualtieri.
Check out all four of the excellent Sopranos images juxtaposed with Paltrow quotes here.
Basically, the takeaway of this meme is simple. We can quibble with the validity of Goop, or even the aesthetic of Gwyneth Paltrow in general. But it's very clear we should also never cross her.