Viral Howl-Off Between This Toddler and His Dog Is Pure Joy
This adorable video has been seen over 3 million times. Why not watch it?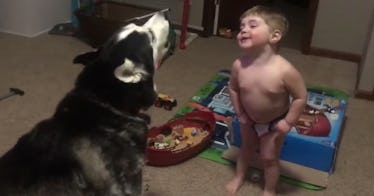 There is all kinds of research that tells us having a pet for our kids is a good thing. But nothing helps nail that home quite like seeing the bond between our pets and kids in person. A mom from Michigan saw this firsthand and shared an adorable video to Facebook. The video features her 2-year-old son and their pet husky, Boston.
Alixandria Smith uploaded a video to Facebook on February 25th when she came across her son, Braxton, playing with their pet dog. The video starts with a cute giggle from Braxton, followed by his impersonation of a dog howl. He giggles and howls again before Boston comes into frame and mom is heard saying, "Tell him," before Boston replies with a howl of his own.
Boston's howl causes Braxton to enter into a giggle-fit while answering back with another howl, and Boston answers back again. The howl-off causes the 2-year-old to laugh, and there's pure joy on his face paying with the family dog while mom films.
"This is what you get when your Toddler realizes he can talk to the Husky," the mom writes in the caption of the Facebook video, which runs a minute and twenty seconds of pure giggle.
The video has been watched over 3 million times since it was posted to Facebook and over 103,000 shares of this joy-filled connection between a boy and his pup.
If you or anyone you know needs a pick-me-up today, it's impossible to not smile at the joy in this boy's giggle.