Video Shows Daycare Teachers Organizing Fights Between Kids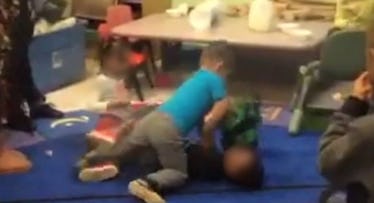 A daycare in St. Louis is facing heavy criticism after a video showed several teachers organizing a fight club in their classroom. The horrific event took place in December of 2016 and reportedly started as a way for the teachers to keep the kids entertained when a heater broke at the Adventure Learning Center. The children, some as young as 4-years-old, were encouraged to fight each other in front of their fellow students and several adult onlookers.
"My son was very afraid," Nicole Merseal, the mother of one of the children, told ABC News. "He didn't understand why his best friends beat him up. These are children that he's been around for a couple years. He described them as his best friends. He just doesn't understand why they punched him in the face. I don't know any parent that could watch their children go through this and not be upset."
One of Merseal's older sons arrived at the classroom and took a video of what was happening, which included a teacher jumping enthusiastically up and down while two children were fighting. When Merseal saw the footage, she called the police. Authorities then spoke to the director of the daycare, Jennifer Scoot, as well as to Mickala Guliford and Tena Dailey, the two teachers believed to have organized the fights.
Scott sent the two teachers home and then filed an incident report with the Child Abuse and Neglect Hotline. The two teachers were fired shortly thereafter, although Merseal doesn't believe the firings are not enough. "It's really hard to explain to a 4-year-old what is and isn't normal, especially when they have their teacher telling them that, you know, they have to do this."
The St Louis Circuit Attorney's Office declined to prosecute the teachers and released a statement explaining the decision: "There was insufficient evidence to prove beyond a reasonable doubt that any laws were violated. However, that does not diminish the incredibly poor judgment by these adults who had the responsibility to safely supervise these children."
This article was originally published on