Massive Parent Brawl Ends Football Season For Two Teams
After his son was hit hard during the game, one father starting hit back and a brawl ensued.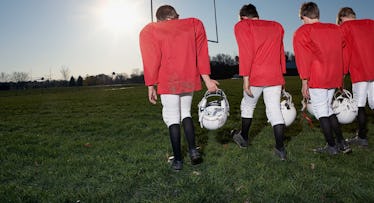 Two youth football teams in Texas have had their seasons come to a premature end after a father, furious about how hard his son was hit on the field, approached the opposing team's bench and started an all-out brawl. As a result, the remainder of both teams' seasons were canceled.
The fight occurred during a game between the Farmers Branch Tigers and Carrollton Longhorns, two teams in the 9-to-10-year-old league. During play, one of the Tigers players delivered a strong hit to a Longhorns player. The Longhorns player's dad was apparently irate and immediately stormed the field and ran over to the opposing sideline where he allegedly removed his shirt and started shoving players while demanding to speak to the parent of the kid who hit his son.
According to several witnesses interviewed by a local CBS affiliate, the father began screaming obscenities and was even pushing kids because he was so angry about the hit. The referees allegedly made no attempt to calm the father down and so the opposing teams' parents stepped in to protect their children. Eventually, the whole scene turned into a violent scrum on the field. Police had to be called as the fight reached extreme levels of violence.
After the fight was stopped, league officials decided to cancel the remainder of both team's seasons. However, several Tigers parents believe their team is being unfairly unpunished, as they were only forced to step in because the refs didn't do enough to contain the irate man. The team is even continuing to practice with the hope that they will eventually be reinstated.
This article was originally published on