Most Parents Think Video Games Are Good for Kids. But There's A Catch
A new survey shows parents have an overall positive feeling about their kids playing video games... but that they may not understand what's appropriate for them.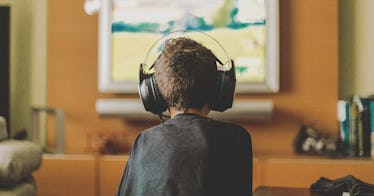 Video games have come a long way since the 1980s, and though the technology of video games has changed massively, one basic truth hasn't: Kids love to spend time playing them. For parents concerned about screen time, they can seem scary, like a timesuck worse than television. But a new survey shows that overall, parents think video games are suitable for their kids. But the majority of parents are wrong about one safety feature, which might skew their feelings.
A survey run by Frontier.com in May 2021 found out how parents see video games and how their kids are playing. 1,002 who had at least one child who plays video games regularly took part in the survey.
"We wanted to know about the impacts they were personally witnessing, and how they addressed household rules and regulations around gaming," a statement alongside the survey read. "They shared their overall perceptions, strategies, and concerns. We also quizzed them on ratings to see if their basic understanding of age-appropriateness was on par with today's gaming landscape."
The survey shows that parents are allowing their kids to play video games more now than they did prior to the pandemic. On average, per the survey, kids play 3.1 hours of video games per day, up from 2.2 hours per day.
The good news is that most parents allow their kids to play online with friends only (50.6 percent), and less let their kids play online games with anyone (37.7 percent). Twelve percent of parents don't let their kids play games online at all, which is also fair!
The main takeaway of the study is that overall, parents seem to have a positive outlook on how video games impact their kids. They feel playing video games has a positive effect on kids' logical thinking, happiness, reaction time, and creativity. But, at the same time, they see negatives in video games for addiction, eye damage, social disconnection, and a waste of time.
One of the more surprising things to come out from this survey is that although parents think video games are suitable for their kids, there's one catch: Parents, on average, have no idea what those Entertainment Software Rating Board, or the ESRB, ratings mean. (The ESRB rates games appropriateness for different age groups.)
There are six different ratings available in the ERSB scale: E, E10+, T, M, A0, and RP, each with its own meaning to help give people a quick overview of the game's appropriateness for age groups. Of the parents who took part in the survey, about 75 percent said they paid attention to the ESRB ratings, with 78 percent believing they understood the differences.
That's true for the E and E10+ ratings, with most parents correct in their understanding that E means the minimum age suggestion is for a 6-year-old, and E10+ is intended for a minimum age of 10 years old (survey respondents on average believed 9.4 to be the minimum age).
But once the ratings moved up in the scale, parents' ideas on the minimum age range were way off. That could be bad, as video game violence could have deleterious effects on kids.
The average age parents guessed for T rating was 11.2, off from the intended 13 years old minimum age. Parents believe M is for 13-year-olds and up when in reality, it's marked for people who are at least 17 years old. And parents felt A0 meant it was recommended for teens 13.8 years old or up when it actually marked 18 and up only. The last rating, RP, means the rating is still pending.
It's nice that parents don't see video games as all bad. They are nothing to fearmonger over, so long as kids are active and happy in general and are engaging with age-appropriate content. In fact, some research has suggested it's better for kids than just watching television because it's an active pastime. But parents should make sure they know exactly the rating of the games their kids are playing in order to ensure they're engaging with content that is appropriate for their age.
This article was originally published on