Dad's Emotional Testimony Against Anti-Trans Bill Is Defense of Daughter's Dignity
"My daughter was equating being good with being someone else."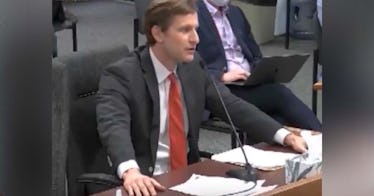 A father in Missouri is being celebrated as a hero after speaking to the Missouri House of Representatives in support of his trans daughter and asking them to reject House Joint Resolution 53, which would ban trans girls from playing alongside cisgender girls in school sports. The bill is one of the dozens that are sweeping state governments across the country in an attempt to limit what trans girls can do — and they have been met with swift opposition from transgender rights advocates to the parents of trans kids, like this dedicated dad. But still, some of the laws have been signed into law.
Brandon Boulware began his remarks to testify against the bill by introducing himself as a father of four kids, "including a wonderful and beautiful transgender daughter." Boulware said it was his daughter's birthday that day (March 3) but admitted that she did not know that he was there speaking on her behalf. Boulware said that, for years, he did not understand transgender issues and he even made his daughter wear boys' clothes and play on boys' teams, against the advice of therapists and school administrators, believing that he was protecting his child from teasing and bullying she might receive.
"My child was miserable," Boulware said. "I cannot overstate that. She was absolutely miserable, especially at school. No confidence, no friends, no laughter. I can honestly say this – I had a child that did not smile."
For years, Boulware forced his daughter to act like a boy against the advice of experts and therapists until, one day, "everything changed." Boulware came home from work to find that one of his sons and his daughter were playing and that his daughter had put on one of her sister's dresses. The two wanted to go play with the neighbors across the street but Boulware said no, so his daughter asked if she could if she changed out of the dress and into boys' clothes instead.
"It was then that it hit me," Boulware explained. "My daughter was equating being good with being someone else. I was teaching my daughter to silence who she is. As a parent, the one thing we cannot do is silence our child's spirit. And so on that day, my wife and I stopped silencing our child's spirit."
was approved by one House Committee last week
This article was originally published on