Girl Scout and Father's Childish Gambino Parody Goes Viral
The video has been viewed more than two million times.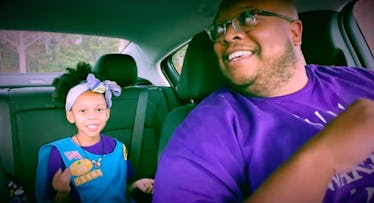 Facebook
When Seymore Harrison and his six-year-old daughter Charity came up with the idea to create a song parody video to help her sell Girl Scout cookies, they never imagined it would go viral. It did. And thanks to the power of the Internet, the daddy-daughter duo's ode to delicious cookies has been viewed by millions of people.
"We were out to dinner, and we saw some Girl Scout videos that were doing parodies of some different songs," Harrison said. "So we started messing around at the table trying to put the words to a song."
They eventually landed on Childish Gambino's Grammy-winning song "Redbone" and began creating their own cookie-centric parody of the song. The video features the two sitting in their car, crooning about the joys of eating Thin Mints and Tagalongs. The Atlanta-based duo kept the lyrics simple, naming all of the different types of delicious cookies for sale while reiterating the fact that "if you want 'em, you can have 'em."
https://www.facebook.com/seymore.harrisonjr/videos/10155952318009003/
"Charity picked out some of her favorite cookies, and we put those cookies in a song and it went from there," Harrison explained.
The fantastic and adorable parody clearly connected with viewers, as it has been viewed more than two million times in less than a week. And according to Harrison, the video's success has helped his daughter sell more cookies. Charity had hoped to sell 1,300 boxes this season but has already moved more than 1,600, and is taking orders from as far away as Alaska. Naturally, she's upped her goal to 2,500 boxes.