Video of Baby Who Thinks Everything Is Hand Sanitizer Goes Viral
The baby goes up to outdoor lighting, covered electrical sockets, and planters and tries to extract hand sanitizer.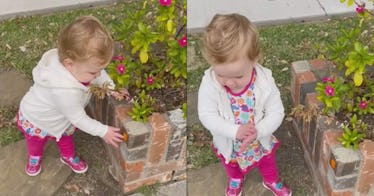 BOOMER_SLAYER/reddit
For parents who had babies last year or in 2019, a new viral video of an infant thinking everything is hand sanitizer will make them laugh while also making them cry.
Babies are imitators. If they watch you sit down at your desk all day and take calls and type on your computer, when they play pretend, they're going to do the exact same thing. If they see you pick up a pair of dumbbells or do squats, they're going to do squats and (try and fail) to pick up those dumbbells. It's a natural way that they learn and make sense of the world, and play, and it's totally adorable — even if watching a 10-month-old open an iPhone with ease might actually be a little creepy. But perhaps no one expected that babies would figure out or notice all of the extra hand sanitizing stations that have cropped up because of the pandemic — and that babies born recently or even in 2020 might actually think basically everything is a hand sanitizing station.
Commenters have suggested that the baby wasn't really born in 2020 as the original post suggests, and that it could be a repost video that has been circulating the platform for months. Comments ranged from, "one hell of a growth spurt if she was born within 13 months," to, "That baby definitely wasn't born in 2020." Others suggested that all babies look different and are on different growth spurts. But the age of the baby isn't so much important (it's clearly not a four-year-old, basically) as it is that the baby picked up these behaviors that we've all picked up in the last year. Babies really notice everything! Either way, after a long year of watching mom and dad sanitize constantly, in what is likely much less than two years of life, however old the baby is, they're doing the same — and it's cute and scary at the same time.