USA's Largest School District Will Fully Mandate Vaccines for Staff, Teachers
With no testing exceptions.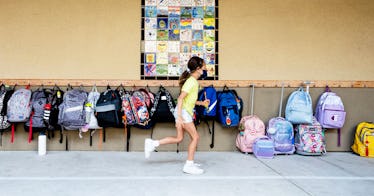 GETTY
The largest school district – New York City – is taking a stand to help protect kids and teachers as the school year starts. NYC Mayor Bill de Blasio is expected to issue a mandate for every employee of the Department of Education to receive at least one dose of the coronavirus vaccine by September 27.
According to The New York Times, NYC's department of education have enacted strict vaccination mandates for teachers, principals, custodians, education assistants, and central office staff, requiring vaccination or weekly testing as a condition of employment. Now, de Blasio seems to be taking a harder line approach, getting rid of weekly testing and instead requiring staff to be vaccinated. It's another mark in Mayor Bill de Blasio's effort to slow down the spread of the coronavirus, specifically the Delta variant, which is running rampant.
It's also a massive step forward for the whole country. Just a week ago, Washington State's Governor Jay Inslee announced that they'd also fully mandate vaccines for educators and school staff regardless of whether or not the staff worked in private or public schools. These mandates will likely become more common after the Pfizer vaccine was fully authorized by the FDA on Monday, August 23rd — so while NYC and Washington State may be the first, they almost certainly won't be the last district to mandate vaccinations.
Jessica Gould, a reporter for WNYC, shared the breaking news on Twitter stating that the mandated vaccines will apply to 143,000 employees. "City tallies at least 63 percent have had at least one dose," she explains, "but that only counts those who were vaccinated in the city. The percentage is likely higher."