Yes, Vaccine Mandates Are Working (And They'll Work in Schools Too.)
Vaccine mandates are increasing vaccination rates and making everyone safer.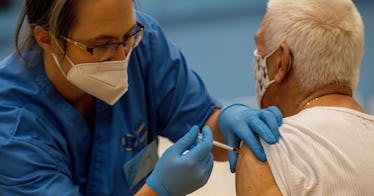 GETTY
When the FDA granted full approval to the Pfizer-BioNTech vaccine on August 23, it opened the door for employers to mandate their workers get vaccinated. Since then, a variety of public and private entities in a diverse set of industries have mandated COVID-19 vaccines for their employees, and the Biden administration even said it would make employers with a certain number of employees mandate vaccines for their workers.
A vaccine mandate presents people with a choice: get vaccinated or get a new job. The evidence so far suggests that the vast majority of workers are choosing to get vaccinated, making the mandates a rousing success in increasing vaccination rates within employers, which in turn of course raises them for the country as a whole, slows the spread of COVID-19 variants, and helps keep unvaccinated children much safer.
In New York City, public school teachers and staff had until Monday morning to receive at least one dose of a COVID vaccine. By the time that deadline hit, about 95 percent of them had, with 43,000 doses administered since the mandate was announced in late August. That left about 8,000 holdouts who have now been placed on unpaid leave with health insurance, all of whom can return to school buildings if they get the first dose within a year.
The mandate has been so successful that the mayor has said he's considering similar measures for other groups of city workers.
United Airlines also instituted a mandate for its employees, one of the strictest enacted by any company in the United States. Its deadline was also Monday, and the results are impressive. More than 96 percent of its 67,000 employees got vaccinated. Around 2,000 applied for exemptions for religious or medical reasons—for which they will be placed on temporary unpaid leave—and only 593 are facing termination for refusing to comply.
Like the New York City Department of Education, United is also willing to reinstate employees who failed to meet the deadline if they receive a vaccination in the coming weeks. It's about getting as many people as possible vaccinated, after all, and a better late than never policy makes sense in that light.
These success stories point to the reality: the vast majority of people are either already vaccinated or open to being vaccinated with a firm push. Rabid anti-vaxxers get a disproportionate amount of media attention, but most people aren't so dead-set against getting a COVID-19 vaccine that they are willing to lose their jobs to do it.
These results have to be encouraging for the Biden administration as the Occupational Safety and Health Administration (OSHA) goes about crafting a mandate of its own that will apply to all employees of businesses with 100 or more workers, around 80 million people. In the meantime, the White House has prodded companies to institute mandates behind the scenes and publicly celebrated those that do.
The bottom line is that the evidence of the safety and efficacy of the COVID-19 vaccinations is overwhelming and that the more people who are vaccinated the better it is for everyone. More vaccinated people mean less of a strain on hospital resources in the short term and the cessation of the public health emergency in the long term.
That includes children, of course, a group that has always been able to contract and spread COVID and, since the rise of the Delta variant, has been more likely to suffer serious medical consequences. California just announced its intention to mandate the COVID-19 vaccine for all public and private school children the same way it already requires vaccinations against Polio, Hepatitis B, and eight other diseases.
Wherever they come from—government agencies, private companies, school boards, or elsewhere—vaccine mandates increase vaccination rates, protecting those who receive them and the vulnerable people, including the immunocompromised and kids under 12, who can't.