PSA: You Need to Keep Your COVID-19 Vaccination Card
Yes, you need to keep your COVID-19 vaccine card. Here's why.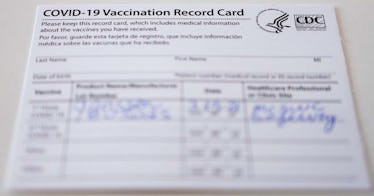 Getty
The hottest thing on social media right now is the vaccination selfie. After people receive their COVID-19 vaccine, posting a smiling selfie holding their vaccination card is the latest viral thing. And while there have been some stories about how the vaccine card selfie might actually be a terrible thing to do in terms of keeping your identity safe, the vaccine card itself is super important to hold on to. Here's why.
According to Good Morning America, the vaccination card you get after your first COVID-19 vaccination is a very important document. Contained on each card is vital information like the dates you were immunized and the brand of vaccine you received. Also, it could be a ticket that comes in handy later on.
Why Is The Vaccination Card Important?
According to the Centers for Disease Control and Prevention (CDC), at the immunization appointment, before you leave, you should receive a vaccination card that has important information listed. The card should be filled out by the nurses stating which vaccine you received, the date it was administered, and where you received it, and when you're coming back.
The card will also likely have the date or necessary information about the second immunization. This second appointment is needed for anyone who had the Moderna or Pfizer-BioNTech or, AstraZeneca, if it does end up getting approved. The CDC says if you received the Johnson & Johnson's Janssen (J&J/Janssen) COVID-19 vaccine, only one shot is required.
But no matter which vaccine you received, holding on to this card is important. Why? Because it may be the key to returning to normalcy.
"A vaccination card is a tool that people can use to declare that they have some level of protection against COVID," John Brownstein, Ph.D., an epidemiologist at Boston Children's Hospital, said to ABC News. "Being able to assess immunity to COVID is a critical part of trying to resume our daily lives."
"What these little cards have the potential to do is to make something like international travel easier by avoiding requirements for quarantine or testing," Amesh Adalja, M.D., FIDSA, an infectious disease specialist and senior scholar at the Johns Hopkins University Center for Health Security, told ABC News.
The keyword there is "potential" because, at this time, there's been no consensus made on if the vaccination card will serve as a sort of passport. In late December 2020, before the mass vaccination program began, the vaccination cards served as an appointment reminder only. But things shift, and that's why it's being suggested to keep those cards in a safe space.
What If I Lose The Vaccination Card?
The good news is you're not the only one with information on your vaccines. Public health also has those records but getting yours replaced if you lost it isn't super simple.
Adalja suggests "go back to where you got vaccinated" to see if they can replace the card with all the correct info. If that doesn't work, there's always the state's department of health who also has a copy and may be able to help.
To avoid losing it in the first place, take a photo of the card with your phone, so you have all the important information and keep it somewhere the kids can't get at it.
Should I Post A Photo Of My Vaccination Card Online?
These selfie photos with vaccination cards are all over social media. It's a great way to promote the program and to encourage others to book their immunization. But experts also warn that it may be opening the doors to scamming.
Bill Kresse, assistant professor of accounting at Governors State University, told RochesterFirst that these vaccination cards have all the information on them for others to take advantage of. "With that piece of information, you actually can go into the dark web, social media, and get the other pieces you need, including your social security number," he said. "You're handing over, potentially, to identity thieves one of the access numbers on your tumbler lock that can access your identity."
Being aware of the potential dangers of posting the card's info online is important, and so is keeping that card safe. It might be the paper needed to have some more normal back after a long and challenging year.