A Uvalde Dad's Blunt Message To Politicians: Skip The Tributes
A dad of a Uvalde victim is sick and tired of this particular kind of message.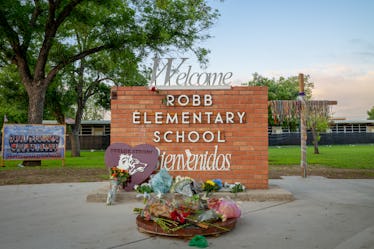 Brandon Bell/Getty Images News/Getty Images
On May 24, 2022, people in Uvalde, Texas, were thrown into a nightmare after 19 children and two teachers were killed at Robb Elementary School when a gunman walked into the school and started firing. Now, one year later, residents are honoring those who lost their lives while still seeking accountability for the mass shooting.
The town held several planned events to honor the children and teachers who lost their lives one year ago to the day. The Uvalde Consolidated Independent School District (CISD) held a 21 Days of Tribute, parents organized fundraisers and rallies, celebrities spoke out, and politicians gave statements to mark the anniversary of the deadliest mass shooting at a U.S. grade school in Texas history.
President Joe Biden called on Congress to "do something" about the country's gun law, asking for tighter restrictions, including a ban on assault weapons like the one used by the killer in Uvalde.
"How many more parents will live their worst nightmare before we stand up to the gun lobby?" the President asked, according to The New York Times. "It's time to act," he continued. "It's time to make our voices heard, not as Democrats or as Republicans but as friends, as neighbors, as parents, as fellow Americans."
Vice President Kamala Harris shared an official statement on Twitter addressing the anniversary of the mass shooting, and Beto O'Rourke, who ran for the Texas governorship in 2022, retweeted tributes from families on Twitter.
Although some found comfort in hearing politicians call for change, one Uvalde dad made it clear he didn't want to hear from lawmakers who have fought against any and all gun regulation.
"I don't want a single politician who figuratively spit in our faces to mention Uvalde or our kids tomorrow," Brett Cross, guardian of 10-year-old shooting victim Uziyah Garcia, wrote on Twitter.
Cross named several specific lawmakers, including Texas Governor Greg Abbott, Republican Texas Senator Ted Cruz, Congressman Tony Gonzales, Lieutenant Governor Dan Patrick, and more.
"From the bottom of my heart. F*** all of you," Cross continued.
Governor Abbott released a statement calling for Texans to take part in a moment of silence. "I ask all Texans to join Cecilia and me in a moment of silence in honor of those who lost their lives, the families who lost a loved one, the survivors who are forever changed, and the entire Uvalde community as they continue to heal," he wrote. "May we also remember that Texans, uniting in our darkest days, will rise above to forge a brighter path forward."
Without a path forward that includes real action, Brett Cross is having none of it.