Republican Utah Governor Vetoed a Trans Sports Ban Bill. It Will Pass Anyway.
"Rarely has so much fear and anger been directed at so few."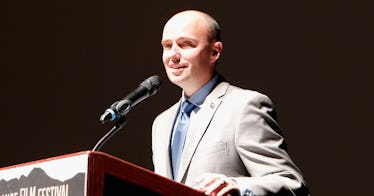 Chad Hurst/Getty Images for Sundance Film Festival
The anti-trans sports bill in Utah — which would ban transgender girls from playing girls sports in school — was vetoed by Republican Governor Spencer Cox on March 22nd, 2022.
The veto, which is almost assuredly going to be overridden by state lawmakers, comes at a time when the rights of transgender children and their parents are being dismantled on many levels in state legislatures across the country.
In the letter, Governor Cox dives into many of the reasons as to why he chose to veto the bill, ranging from the financial to legal implications of what could happen. He noted the divisiveness of the issue, and that the bill has "several fundamental flaws" that "should be reconsidered" like that the bill would decimate local schools with legal fees. And although Cox says he wants to "protect the integrity of women's sports," (experts say that the integrity of women's sports is not at risk if trans people are allowed to play in them) he also noted facts that made him reconsider signing the bill.
In his letter, he said that "it would be much easier and better for me to simply sign the bill," for political reasons, but when he looked at the statistics, they didn't make any sense to him.
"I must admit, I am not an expert on transgenderism [sic]. I struggle to understand so much of it and the science is conflicting," he stated in the letter. "When in doubt, however, I always try to err on the side of kindness, mercy, and compassion. I also try to get proximate, and I am learning so much from our transgender community. They are great kids who face enormous struggles."
He then broke down his decision into five statistics that "have most impacted [his] decision:"
75,000 high school kids participating in high school sports in Utah.
4 transgender kids playing high school sports in Utah.
1 transgender student playing girls sports.
86 percent of trans youth reporting suicidality.
56 percent of trans youth having attempted suicide.