USPS Says Mail Delivery Will Be A Nightmare This Holiday Season
It's not just the supply chain that will make this holiday season a nightmare for parents looking for toys.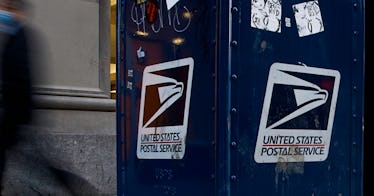 GETTY
It's hard to believe that the holiday season is right around the corner. Before we know it, we'll be elbow deep in wrapping paper and struggling to get it all done before our respective celebrations that take place in the coldest and shortest days of the year. But if you're hoping to avoid the last-minute stress, you're going to want to start your shopping now. So here's what you need to know.
According to NPR, the U.S. Postal Service will implement its "new service standards" beginning Friday, Oct. 1. These changes are going to make service slower and potentially more expensive.
Kim Frum, a spokesperson for the USPS, explained the changes and why people should be aware of them. Frum explained that periodicals and first-class mail would have their target delivery time reduced by approximately 30 percent.
What does this mean for you? First, your packages will take longer to arrive at their destination, whether you're sending or receiving them. Also, more specifically, mail going cross-country and other long distances will take longer to get where it needs to go.
However, she explained to NPR that the upcoming changes wouldn't affect 93 percent of periodicals and 61 percent of first-class mail.
"Single-piece first-class mail (smaller, lightweight mail) traveling in the same region will still have a two-day delivery time," NPR reports Frum explaining. "First-class packages, however, will be impacted by the new standards starting Friday."
On top of slower delivery, the Postal Service will begin its seasonal price hikes. These two changes are part of the new so-called 10-year strategic plan to help steer the service in the right direction, according to Postmaster General Louis DeJoy.
In reality, the crisis of the USPS has been one that has brewed for quite some time — Postmaster Louis DeJoy engaged in major budget cuts to the postal service in the months leading up to the 2020 election, but the origins of the postal service crisis began in 2006, when a Republican in office at the time, Tom Davis, passed a bill that put a host of regulations and requirements on the Postal Service that no other federal institution has ever had to comply with — like the fact that the USPS had to fully fund its pension program for employees for 75 years into the future. The USPS has been unprofitable since — and that lack of profit has been used to justify a series of budget cuts and disinvestments in the essential service.
Customers will see temporarily increased prices on all "commercial and retail domestic packages" hoping to make extra back during the postal rush of the holiday season.
So, if you're planning to do your holiday shopping and need to mail out packages or hope to receive them in time to wrap and put them under the tree, you'll probably want to start sooner than later.
Good luck.