This List of The Most Outrageously Expensive Used Cars In Each State Will Make You Gasp
A used Toyota Corolla might have once been seen as a budget-friendly option — but it's bonkers expensive in four different states right now.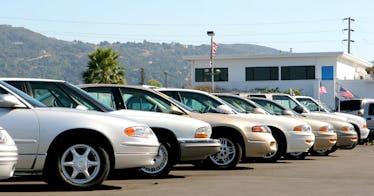 Keith Lance / Getty Images
If you're feeling the budget squeeze, you're not alone. Everything from milk to cars — especially used ones — has increased in price significantly as inflation rates are the highest they've been in 40 years.
With these price bumps, it's more important than ever to do our research when we want to make a big purchase, like a new car. While buying a used car is usually the most economical option for parents on a budget, a new analysis shows that some used cars are absolutely exploding in price, and the most expensive makes and models actually depend on the state you're buying the car in. Here's what you need to know.
iSeeCars.com wanted to find out which used vehicles were the most expensive in each state. Analyzing over 1.7 million car sales between February 2021 and February 2022, specifically just for vehicles between one and five years old, iSeeCars.com dug deeper into the numbers.
The Big Takeaways Used Cars Are Expensive
"The average listing prices of each car model were compared between the two time periods, and the differences were expressed as both a percentage difference from the 2021 price as well as a dollar difference," the site explains. "Heavy-duty vehicles, low-volume vehicles, vehicles discontinued as of the 2022 model year, and vehicles with fewer than 4 of the 5 model years for each period were excluded from further analysis."
Looking at the data as a whole, smaller cars dominate the list across the country as being the most overly expensive overall. More specifically, the Kia Forte subcompact car is one of the most affordable new cars on the market, iSeeCars.com states. But to buy the car used? The Kia Forte has the highest price increase in 17 different states. This car is the most expensive in New Jersey, with a 61 percent increase in price.
Other used vehicles that were top prices in several states include the Hyundai Sonata which saw the highest prices in Nevada, Louisiana, and Alabama. A used Toyota Corolla is more expensive in Vermont, Minnesota, Colorado, and Arkansas. The Nissan Rogue was most expensive in Iowa, Maine, Montana, Rhode Island, and South Dakota.
"The only way to avoid severe price hikes for the foreseeable future is to purchase a used vehicle that isn't in very high demand and to avoid these vehicles with the largest price hikes," iSeeCars.com says. But it's not all bad news. If you're looking to sell, you could be holding on to an extremely valuable model. "Consumers who have one of these vehicles could see a high profit if they want to trade their car in," the publication says.
Below is the list compiled by them to show the used car models that have had the biggest price hikes in each state.
The Used Car With the Biggest Price Hike in Each State
Alabama — Hyundai Sonata, increased in cost by 50.8%
Alaska — Ford Escape, increased in cost by 39.2% Arizona — Kia Forte, increased in cost by 55.4% Arkansas — Toyota Corolla, increased in cost by 46.3% California — Kia Forte, increased in cost by 54.6% Colorado — Toyota Corolla, increased in cost by 47.4% Connecticut — Kia Forte, increased in cost by 55.1% Delaware — Chevrolet Equinox, increased in cost by 42.2% Florida — Kia Forte, increased in cost by 52.4% Georgia — Nissan Versa, increased in cost by 49.2% Hawaii — Kia Forte, increased in cost by 49.0% Idaho — Ford Escape, increased in cost by 36.1% Illinois — Kia Forte, increased in cost by 53.8% Indiana — Kia Forte, increased in cost by 55.1% Iowa — Nissan Rogue, increased in cost by 43.6% Kansas — Nissan Sentra, increased in cost by 43.9% Kentucky — Nissan Sentra, increased in cost by 48.9% Louisiana — Hyundai Sonata, increased in cost by 48.9% Maine — Nissan Rogue, increased in cost by 39.2% Maryland — Kia Forte, increased in cost by 51.6% Massachusetts — Kia Forte, increased in cost by 54.2% Michigan — Kia Soul, increased in cost by 51.7% Minnesota — Toyota Corolla, increased in cost by 48.0% Mississippi — Nissan Sentra, increased in cost by 44.1% Missouri — Kia Forte, increased in cost by 53.2% Montana — Nissan Rogue, increased in cost by 44.2% Nebraska — Nissan Altima, increased in cost by 46.0% Nevada — Hyundai Sonata, increased in cost by 49.3% New Hampshire — Nissan Sentra, increased in cost by 48.5% New Jersey — Kia Forte, increased in cost by 61.0% New Mexico — Hyundai Elantra, increased in cost by 46.8% New York — Kia Forte, increased in cost by 53.7% North Carolina — Acura RDX, increased in cost by 52.7 North Dakota — Toyota RAV4, increased in cost by 40.8% Ohio — Kia Forte, increased in cost by 54.0% Oklahoma — Nissan Sentra, increased in cost by 50.0% Oregon — Kia Forte, increased in cost by 48.3% Pennsylvania — Kia Forte, increased in cost by 56.6% Rhode Island — Nissan Rogue, increased in cost by 46.3% South Carolina — Kia Forte, increased in cost by 53.5% South Dakota — Nissan Rogue, increased in cost by 47.7% Tennessee — Nissan Versa, increased in cost by 49.9% Texas — Volvo XC60, increased in cost by 50.8% Utah — Honda Civic, increased in cost by 45.7% Vermont — Toyota Corolla, increased in cost by 49.3% Virginia — Kia Forte, increased in cost by 50.8% Washington — Kia Soul, increased in cost by 49.4% West Virginia — Ford Escape, increased in cost by 42.3% Wisconsin — Nissan Sentra, increased in cost by 46.6% Wyoming — Ford Escape, increased in cost by 37.2%