The United States is Spending Less on Children Than Other Developed Countries
New data indicates that the government is providing far less money to help poor children than it has in the past.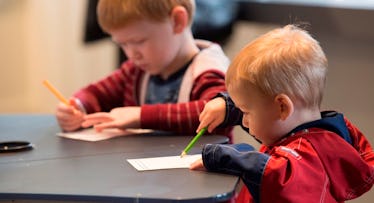 NPS.gov
New research has found that the United States government is spending less on children than other developed countries, as well as spending less than it did in the past. In fact, according to the research, released by the National Bureau of Economic Research, the government is spending significantly less to support children, especially poor children, than it was several decades ago.
The research indicates that in 1990, the government was spending an average of about $8,700 on "every child whose family took in no income from work." In 2015, with inflation accounted for, the government is only spending $7,000 on a child living in poverty. The steady decline seems to primarily come as a result of welfare payment programs being cut at an increased rate. According to the Washington Post, the money from these programs "once went to 76 percent of poor families with children but now goes to 23 percent of them."
While the total amount of actual money spent on children has increased since the 90s, that increase does not account for inflation, which, when accounted for, shows the government is spending less than it previously did to provide support for kids. The decline in spending is even more evident when compared to other developed nations, as the United States has fallen far behind other countries when it comes to financial aid for children. Through most of the 90s, the U.S. mostly kept up with other countries when it came to spending on kids but since 2004, America has ranked third-to-last in spending among developed nations, only beating out Mexico and Turkey
Interestingly, the government has continued to increase the amount it spends to support the elderly, as Social Security and Medicare have taken up a growing share of the U.S. economy while spending on welfare and other programs related to children have steadily declined.
This article was originally published on