Booster Shots Are Coming. Here's Who Will Get Them First
The rollout is likely to follow how the initial vaccine was prioritized. Here's what to know.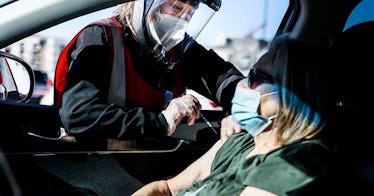 GETTY
The Biden administration is set to recommend that most people should receive a third COVID-19 vaccine within eight months of their last dose. Here's who will qualify for the coronavirus booster shot and what you need to know.
When Are The Booster Shots Coming?
Reports indicate that booster shots may be given as early as mid-September. While the official announcement on the boosters hasn't been released, it's rumored to be just around the corner. And much like the first vaccination roll-out, the vaccine will be offered to specific groups first. That's because, according to The New York Times, the booster shots are supposed to be rolled out to people some eight months after their second dose of Moderna or Pfizer or first dose of Johnson & Johnson.
While the official announcement on the booster shots hasn't been released, it's rumored to be just around the corner.
The Order of Boosters Will Look Like The First Rollout
"The first boosters are likely to go to nursing home residents, health care workers, and emergency workers," The New York Times states. "They would probably be followed by other older people who were near the front of the line when vaccinations began late last year, then by the general population."
The Food and Drug Administration has yet to approve booster shots for the general population. However, last week the agency authorized third doses of the Pfizer and Moderna vaccines for certain groups of people, specifically those with weakened immune systems who may not have had sufficient protection against COVID after the first two vaccines. This includes people who are actively undergoing chemo, for example, or who are on other immunosuppressant drugs.
Is This A Surprise?
No, not really! Even when the first rounds of shots were making their way into people's arms, vaccine officials and researchers at Pfizer, Moderna, and Johnson & Johnson were studying the long-term efficacy of the vaccines to determine if, and when, the vaccine will need to be boosted with a third dose, or even if it should be a yearly inoculation like the flu vaccine. Booster shots had more or less been a when, not if, proposition.
However, the World Health Organization has asked countries to hold off on boosters until the end of September so that those vaccines can be given to people in countries that haven't even gotten the first dose yet.
Initial studies found that both the Moderna and Pfizer vaccines still provided immune protection some six months after the second dose. It's unclear whether or how much protection may wane after that point in time, but health officials are worried. With variants continuing to surge across the United States — and learning how to evade vaccines — boosters make sense… at least in theory. There isn't great evidence yet that the general population needs them. But the government is erring on the side of caution and taking a better safe than sorry approach.
If only kids could get vaccinated, too. Currently, there still isn't an approved vaccine for kids under 12 years old. It was previously reported that an approved vaccine for the kids could come as soon as the end of August, but it now looks like it won't be available until fall or winter.