CDC Asks Unvaccinated People to Not Travel Over Labor Day Weekend
This isn't a typical Labor Day.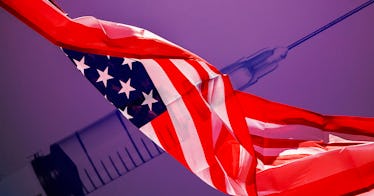 The Centers for Disease Control and Prevention (CDC) has asked people who haven't been fully vaccinated to stay put this Labor Day Weekend as the Delta variant rages on.
In typical years, Labor Day weekend is spent with families and friends, which requires some travel. However, this isn't a typical year, and the CDC is asking Americans to keep that in mind.
"First and foremost, if you are unvaccinated, we would recommend not traveling," CDC Director Rochelle Walensky said when asked about travel for the holiday weekend at a White House press briefing Tuesday discussing the surge of COVID-19 cases and the spread of the Delta variant.
"We have actually articulated that people who are fully vaccinated and who are wearing masks can travel," she adds. "Though given where we are with disease transmission right now, we would say that people need to take… these risks into their own consideration as they think about traveling."
Although the CDC can't force you to stay put, the agency also recommends that if you're not fully vaccinated and still decide to travel within the United States for Labor Day weekend (say, if you and the kids want to go to the lakehouse for the weekend or see grandma and grandpa), there are a few precautions you should take.
People are being asked to self-monitor for any symptoms of COVID-19 and cancel plans if they show signs of being sick.
The agency also recommends that unvaccinated people wear a mask, get tested 1-3 days before travel, and then get tested 3-5 days again after travel.
Unvaccinated people are also being asked to self-quarantine for seven days, even if the COVID test is negative, or a 10-day quarantine if they don't get tested.
COVID-19 cases continue to rise, surging in several states, mainly where vaccine hesitancy is widespread and there many people aren't wearing masks. The fourth wave of the pandemic, driven by the Delta variant, is primarily hitting unvaccinated Americans. Many of those unvaccinated people are, for the time being, children. So being safe is of utmost importance.
This article was originally published on