ICYMI: Vaccinated Travelers Could Win A Year Of Free Flights Through United
There's a chance to win every day in June.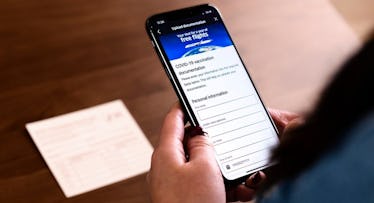 United
For anyone feeling the effects of the travel bug with nowhere to go thanks to the pandemic, there might be a cure for that on the horizon. United Airlines is offering an opportunity to travel all year long with a new contest. However, you must be vaccinated to enter.
Titled "Your Shot to Fly," the airline is offering roundtrip flights to the winners, with five lucky people winning the grand prize of a year-long pass to travel anywhere United flies. The contest is aimed to help support the Biden administration's effort to encourage people to get vaccinated for COVID-19, and only those who can verify their vaccinations are eligible to win.
"We're proud to do our part to incentivize people to get their shot," United CEO Scott Kirby said in a press release on May 24. "We're excited to give people one more reason to get vaccinated so they can reunite with friends and family or take that long-awaited vacation which all could be just one shot away."
The sweepstake is open to United's Mileage Plus loyalty program members, free to join through the company's online portal. "With more dream destinations reopening for travel (ciao, Roma!), your COVID-19 vaccine is your ticket to the world," the contest reads.
To enter to win is pretty simple. All you need to do is upload your vaccination card to your MileagePlus account, and you're automatically in the running. Travelers need to upload their records using the airline's mobile app or website between today and June 22 to be eligible.
The company is giving away a free roundtrip flight for two, any class of service, anywhere in the world that United flies to every day in June. In total, there are 30 pairs of tickets up for grabs until the end of the contest, plus five grand prize winners who will receive one year of free travel (26 roundtrip flights for two in total) to any of United's global destinations in any class of service.
After the year we've all had – both people and businesses – this contest sounds like the best way for travelers to get excited about seeing the world again.
For full contest details and how to apply, visit United's contest page.
This article was originally published on