A Major Company Is Going Four-Day Workweek — It Could Be Great For Parents
The experiment will last a year and could affect many parents across the world.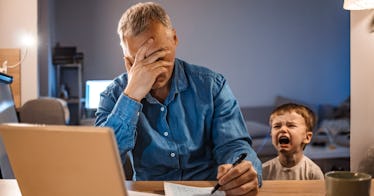 Another major company has decided to run a test trial of the four-day workweek — and the results of the trial could have major impacts on parent's work/life balance across the world.
Unilever, the massive global corporation that owns Dove, Vaseline, Lipton, Ben & Jerry's, Hellman's Mayonnaise, Cornetto, Magnum, Klondike, and Axe, among literally hundreds of other brands, is making history with a trial run of a 4-day-workweek that, if successful, could affect any of the over 150,000 people who are employed by the company – making a huge win for parents.
This month, Unilever is launching a program for its 81 employees in New Zealand — which is a small start. The program will allow all 81 employees to work a 4-day-week on any days they choose of the week and will last a year.
Unilever is doing loads of research into the project, and the worker's productivity will be tracked over the course of the next year so that the company can determine whether or not a four-day-workweek is something that could work for the employees of the company worldwide.
There is reason to believe that the program would work, however. Previous studies and initiatives have found that when people work a 32-hour workweek, their productivity at work soars, suggesting that more time off leads to decreased burnout and more in-office motivation.
For decades, Americans have spent more and more hours at the workplace than ever, while productivity hasn't budged an inch. Meanwhile, their increased hours at the workplace mean a worse work-life balance, less time with their families, more money spent on childcare, and decreased happiness.
It's also an idea that has been endorsed by labour parties like those in the United Kingdom. In September of 2019, UK Labour leader John McDonnell announced the party would officially back a 32-hour workweek — saying: "As society got richer, we could spend fewer hours at work. But in recent decades progress has stalled, and since the 1980s, the link between increasing productivity and expanding free time has been broken. It's time to put that right."
Unilever's experiment is not the first of its kind — but it is a good sign that there's an increasing willingness for major corporations to understand what their employees need — and how their employees' needs can actually benefit the health of their overall company.
This article was originally published on