Watch This Hilarious Viral Video of Dad 'Unboxing,' Reviewing His New Baby
"All grown up transactions are final! Shipping is about 8 1/2 to 9 months."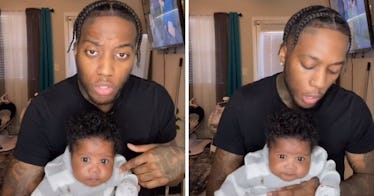 TikTok / thedavisfamily
If you had asked us 10 years ago if the most-watched videos on YouTube were going to be dominated by people opening boxes, we wouldn't believe you. Yet, here we are. These unboxing videos rack up millions of views and make those who create them, millionaires. It's a career path that many kids aspire to. And people love to watch unboxing videos of anything – which is what makes this viral video of a dad "unboxing" and reviewing his new baby so hilarious.
A dad, who goes by Be Yourself across his social media channels, made a spoof video of these popular unboxing clips. What was the unboxing and giving an honest review about? His two-month-old baby.
"Hey guys, I'm back with another review today," he starts off, holding his young son in his arms. "This is my little boy. I just got him about two months ago. Good quality hair, the cheeks are very chunky and very kissable," he added, with the air of someone talking about the specs of a new iPhone or electronics.
And, to follow the format of these typical unboxing and review videos, the dad then gives his recommendations.
"I recommend babies for any family for starting families," he says. "If you already have a family, I recommend more babies, you know what I'm saying? You can get them from around you know, three grown-up transactions a day if you know what I mean," he joked. "It only takes… one grownup transaction can get you a baby."