This Viral Reddit Thread of Bad TV Parenting Is Hilarious
Look, I understand you have to suspend some disbelief with TV, but ...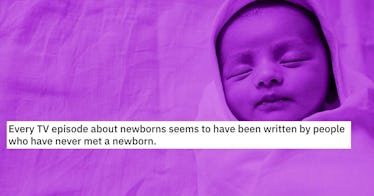 Becoming a parent is a wild ride, and even if we've read every book and scoured every parenting forum, we're bound to be caught off guard by something. And it doesn't help that parenthood on TV is vastly different from real life. So if we based what being a parent was going to be like solely on how it's shown on television and movies, we'd be in for a massive surprise. And that's what sparked a viral Reddit thread.
Reddit user u/rainydaywomam hit up Reddit's r/beyondthebump forum to ask if something she's noticed about television shows is something others have as well. "I watched a couple episodes of This Is Us recently but the same can be said about many TV shows and movies," she began her post.
"Things I see that bug me: -first time parents come home from the hospital and immediately settle in with a cup of tea and snuggle on the couch -new mom lets dad nap for a few hours ("I've got this" ) and when he wakes up he watches as she effortlessly consoles the twins -house is immaculate."
She continues, "Look, I understand you have to suspend some disbelief with TV. And maybe there are actually families like this out there. But it makes me want to scream and honestly inserts that self-doubt I try so hard to overcome in thinking 'oh my God, maybe I'm just an incompetent mother and it shouldn't really be this hard."
Adding, u/rainydaywomam said that if shows aren't going to show the reality of parenthood, including how hard it is, "then don't write a story line that involves newborns because it just perpetuates unrealistic expectations and magnifies insecurity about being a new parent."
And her realization resonated with so many parents who shared what they've noticed in TV shows that are always wrong about parenthood. The whole thread is eye-opening, but here are a few of the best responses.
"The lack of accurate carseat safety practices on pretty much every show is also appalling," Clancita4 wrote, prompting Book_1love to add a story about watching Breaking Bad. "I remember watching Breaking Bad a couple years ago and flipping out because Skyler and Walt came home with their daughter in a car seat, left the baby in the car seat on the kitchen table and then left her there to go have an argument in the other room!"
For KatarinaAFelidae, it's how shows portray breastfeeding that had her eyes rolling. "My MIL was watching a show when my son was a couple of weeks old," she said. "I don't know what show it was but I happened to pay attention at this point: a woman had given birth in a hospital and was pumping in her hospital bed, her bottles were already at the like 4oz line on each side. I was like buuuuuuuuuullshiiiiiiiiiiit."
"My biggest pet peeve is the unsafe sleeping practices in tv shows," LunarRabbit18 said. "I'm all for bed sharing and whatnot, but for the newborn to be put in a crib with a bunch of blankets and stuffed animals and things that can wrap around their neck when they're by themselves is ASTONISHING. Along with the fact that the parents just leave that week-old baby in a room by themselves during the night."
SourBlue1992 said it's the naps that bug her on TV shows, too. "I hate when the mom goes to take the FULLY AWAKE baby to "put them down for a nap" and comes back like 30 seconds later. My daughter is 2 and she still naps ON us."
While these are funny, on the surface, there is something to be said about how these unrealistic portrayals may make an already frazzled and stressed parent feel like they're not doing anything right. So, skip how TV shows parenting and hit up the forums. These parents will always share the truth, no sugarcoating.