TurboTax Could Send You Money From A $141 Million Settlement — What To Know
Approximately 4.4 million people will soon see money returned from TurboTax as part of a $141 million settlement.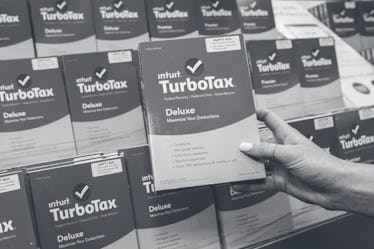 Kimberly White/Getty Images Entertainment/Getty Images
Approximately 4.4 million people will soon see money returned from TurboTax as part of a $141 million settlement. The settlement comes after a multi-state agreement with TurboTax's parent company, Intuit, for allegedly pushing lower-income Americans to pay for services that should have been offered with no charge.
According to CNBC, an Intuit spokesperson said the company is "pleased to have reached a resolution with the state attorneys general that will ensure the company can return our focus to providing vital services to American taxpayers today and in the future." The company admitted to no wrongdoing as part of the settlement agreement.
Why is there a TurboTax settlement?
Following a 2019 report from ProPublica that accused the company of purposefully steering people away from a free federal tax filing, a multi-state investigation found truth to the accusations, CNN Business explains.
The findings from the multi-state investigation found Intuit to have participated in "several deceptive and unfair trade practices that limited consumer's participation in the IRS Free File Program." These practices reportedly included blocking the IRS Free File landing page from search engine results during the 2019 tax filing season and using a similar name for its lower-tier pay version to the free program from the IRS.
"TurboTax's predatory and deceptive marketing cheated millions of low-income Americans who were trying to fulfill their legal duties to file their taxes," New York Attorney General Letitia James said in a statement.
"Today, we are righting that wrong and putting money back into the pockets of hardworking taxpayers who should have never paid to file their taxes."
Who qualifies for a TurboTax settlement payment?
You might qualify for the settlement if you used a paid version of TurboTax when filing federal returns between 2016 and 2018 when you were eligible for the free version through IRS Free File. IRS Free File was a free online guided tax prep for federal returns to help lower-income filers possibly claim "overlooked tax credits or refunds," according to the IRS.
If you are eligible, there is no action required on your end. According to CNBC, you'll receive a letter via email from Rust Consulting, the settlement fund administrator.
How much money to expect from the TurboTax settlement, and when?
Most who are eligible for the settlement will receive around $30; however, you may be entitled to up to $85 if you used a paid version of TurboTax for all three years listed in the settlement.
According to the press release, payments will begin in May, but some checks may not reach consumers until early June. If you don't receive funds by mid-June, you can request the check be reissued through the website below with your ID number issued in the initial email.
For more information, visit AGTurboTaxSettlement.com.