Trump's Psychologist Niece Says Her Family Is a Dysfunctional Mess
Two books are painting a picture of a family dynamic that is the opposite of what anyone would want.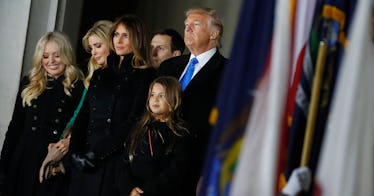 Getty
Two books about Trump are being released by Simon & Schuster. Former national security adviser (and the third in Trump's administration) John Bolton's book, "The Room Where It Happened," is set to be published on June 23rd — while another book, written by Trump's niece, Mary Trump, will come out at some point in July.
While Bolton's book focuses more on the administration, scandals, and political maneuverings, Mary Trump's book, "Too Much and Never Enough: How My Family Created the World's Most Dangerous Man," will focus largely on Trump's upbringing and the personal scandals within his own family.
Trump has already fought to delay the release of Bolton's book, with the Justice Department suing to block the release of the scandalous text, while experts think that Trump may move to do the same thing with his niece's book.
But what do the books suggest about the Trump administration and, ultimately, the Trump family? Nothing good, early reviews say.
Mary Trump's Book Will Reveal "Harrowing, Salacious" Stories About Trump
According to The Daily Beast, Mary Trump's book will be published weeks before the Republican National Convention on July 28. The book will reveal that Ms. Trump was one of the main sources behind the New York Times' reporting into Trump's fraudulent tax schemes. The book will also reveal how Donald J. Trump and his father neglected Mary's father, Fred Trump Jr., as he descended into an alcohol addiction that would ultimately kill him, and how the president and his siblings cut off medical benefits to one nephew in the family who had cerebral palsy as "payback" for challenges to the Trump patriarch's will.
There may be some psychoanalysis at play — as Ms. Trump is a psychologist, as well as 'palace intrigue' — much of the book is based off of stories from Maryanne Barry, Trump's sister and retired judge.
The book marks the first time a family member of the president has published a tell-all about the administration, at a time when there is a veritable book micro-economy of tell-all books of former Trump administration officials.
Of course, no one should expect the book to be a flattering portrait of the president. The last time Mary Trump spoke at length, publicly, about her family, was during the fight over her grandfather's will that would tear the family apart. Apparently, allegations that the patriarch suffered from dementia and that his will had changed before his death, cutting the descendents of Mary's father out of the will, chaos ensued. "My aunts and uncles should be ashamed of themselves," she said in 2000. "I'm sure they are not."
Bolton's Book Will Suggest The Same — But About Politics
John Bolton's book, which comes out on Tuesday, basically asserts that every single move Trump makes is singularly about his re-election — including asking a foreign government, the Chinese government, for help with re-election, supporting China's concentration camps that imprison and "re-educate" Uyghur Muslims, and that Trump offered to help Recep Erdogan, the Turkish president, help to avoid a Justice Department investigation into events that may have violated US Iran sanctions.
Bolton also paints a picture of a president who has no interest, or understanding, in administrative politics or even what countries exist where — he once asked advisers if Finland was a "satellite" country "of Russia." He also was surprised to learn that Britain was a nuclear power, and apparently pushed Attorney General Bill Barr to jail CNN reporters.
Dysfunctional family, dysfunctional administration.