Trump and the First Lady Have COVID-19
The President and Melania Trump confirmed they have both tested positive for the coronavirus.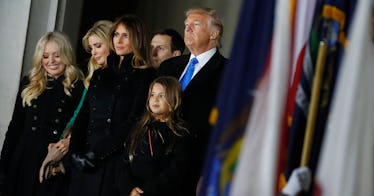 Getty
Days after his first debate with Joe Biden, Donald Trump and his wife, First Lady Melania Trump have confirmed they have contracted COVID-19. The news broke early Friday morning. The Trumps will quarantine together for 14 days starting now, and Trump's personal physician Sean P. Conley said both Trumps were seemingly healthy and weren't exhibiting any symptoms.
This diagnosis comes after months and months of President Trump publicly downplaying the virus, refusing to wear a mask in public, and, eventually admitting to journalist Bob Woodward that he intentionally "downplayed" the severity of COVID-19 because he didn't want Americans to "panic." Although several world leaders offered support for the Trumps while they quartine, a French official named Gabriel Attal noted that this was "a sign that the virus spares no one, including those who are the most skeptical about its reality and gravity."
To date, at least 200,000 Americans have died from COVID-19. Trump contracting COVID-19 is the most dangerous thing to happen to an American President in the 21st Century. At present, the next Presidential Debate with Joe Biden is still scheduled for two weeks from now. It is unclear if that debate will go forward.
Meanwhile, both the domestic and world economy has been impacted by the news of the Trumps contracting COVID-19. The Washington Post reported that "futures tied to the Dow Jones industrial average fell by more than 400 points or 1.6 percent," and they noted that "European markets opened lower on Friday." Clearly, when the American President contracts a virus that is ravaging the globe, the global economy also gets sick.
This story is developing.
This article was originally published on